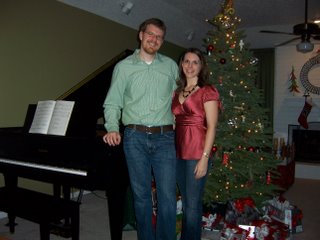 We had a very successful and challenging mission. The shuttle undocked from the station yesterday and will be landing Friday…just in time for the holidays.
We celebrated Ross' birthday, which was yesterday, by going to Dave & Busters with some friends over the weekend. Dave & Busters is basically a video game arcade for adults. We played lots of fun games. I think our favorites were the trivia game…we won a lot of tickets…and a boxing game that Ross played. We ended up cashing in our tickets for a soccer ball and a yo-yo.
We also attended a Christmas party with all of our friends from our life group. We ate lots of food, and had a white elephant gift exchange. Here is a picture of everyone from that night. You can check out the rest in our album.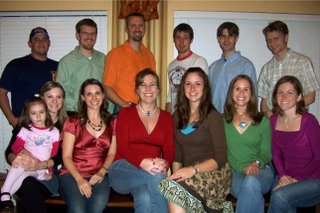 Tomorrow we're planning to go to Galveston to see the Festival of Lights and go ice skating. I can't wait! I've only been ice skating once, so we'll see how I do. It's still ~75F (~25C) here. It doesn't really feel like winter at all, so our trip tomorrow is our attempt to make it feel more like the right time of the year.
I hope everyone has a wonderful Christmas and a happy New Year!