The annual Stone Family Reunion was held over Memorial Day weekend this year, and just about everyone was able to make it this year. It was great!
Before the actual family reunion festivities kicked off, Ross and I made our way to Mudbug Madness with Leslie and all of the kiddos. I used to work at Mudbug Madness with my Dad when I was growing up, so it was fun to be in town while it was going on. We enjoyed some great food and music and look forward to future years when JD is able to participate in more of the kid activities. Having a broken leg kept him from being able to do some fun stuff. He did get to make some sand art and get his hand painted though, so he did have fun! The festival plaza was packed, so we ended up finding a shady spot on the ground by one of the bands to eat our food. The kiddos enjoyed some fried fish while the adults had some crawfish. Then we introduced them to gator-on-a-stick, which was a hit! Audrey especially loved it. Here they are just before we left. I think they were all tired and full!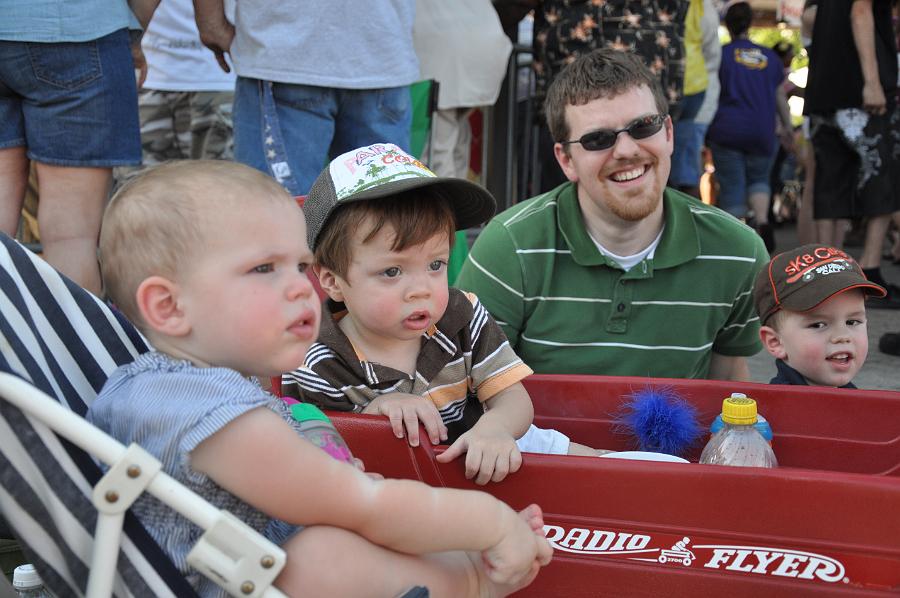 Saturday evening the family reunion fun began. The schedule of events was the same as previous years. We had dinner at Aunt Dottie and Uncle Jim's on Saturday. Then we had brunch at Susan and John's on Sunday morning, and we headed out to Uncle Ronnie and Aunt Laura's for an evening of swimming, soccer, food, and karaoke! There were a little over 40 family members in attendance this year with almost half that number being kids.
Jackson's favorite part of the weekend was the puppet show Aunt Carol and his cousins put on. Jackson got to be a cow and a pig, and Aunt Carol was sweet enough to let Jackson take his nap with the pig that day. Audrey's favorite part seemed to be swimming. This was her second time in the pool this year. Her first trip was a little cold, but she LOVED it this time! Here are a few pictures from Saturday including one of Ross' Grandfather, Jim Stone, who is the head of this incredible family. There are more pictures of the puppet show and other fun activities in the album.