We spent the rest of the weekend relaxing in the sand after our roller coaster of a day watching the shuttle launch. Saturday morning we had a huge breakfast at a local restaurant down the street. Then we coated ourselves in sunscreen and made our way to the beach, which was literally 2 blocks away. The house we rented had chairs and other fun stuff to take to the beach, so we borrowed them and set up camp on the beach. We brought a little tent to keep Audrey out of the sun, which came in handy at the launch too. The sound of the waves must have been soothing because she spent most of the morning asleep while we played.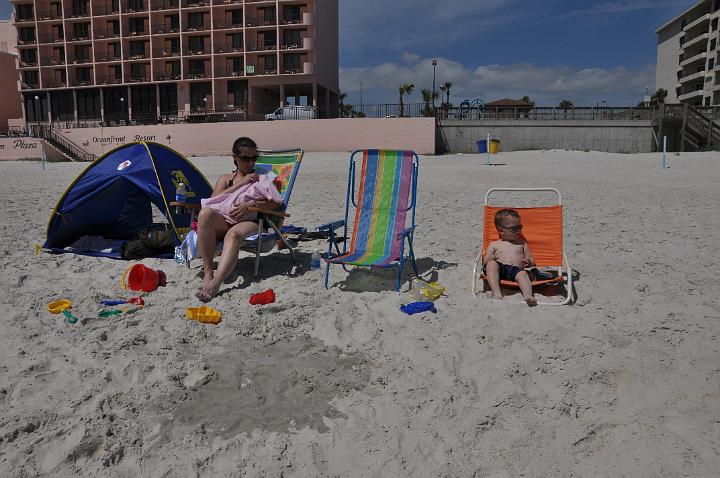 Here's a picture of Jackson's first experience with the ocean.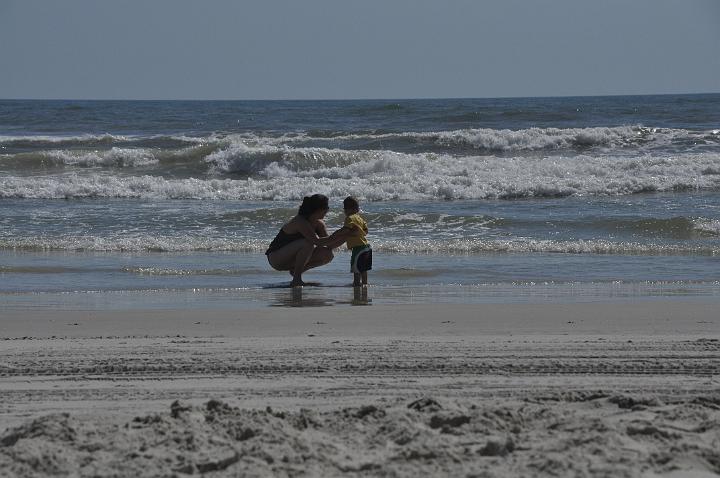 He wasn't quite sure what to think of the sand washing away under his feet. He laughed like it tickled but didn't want to go back for more.
He had fun people watching and playing in the sand.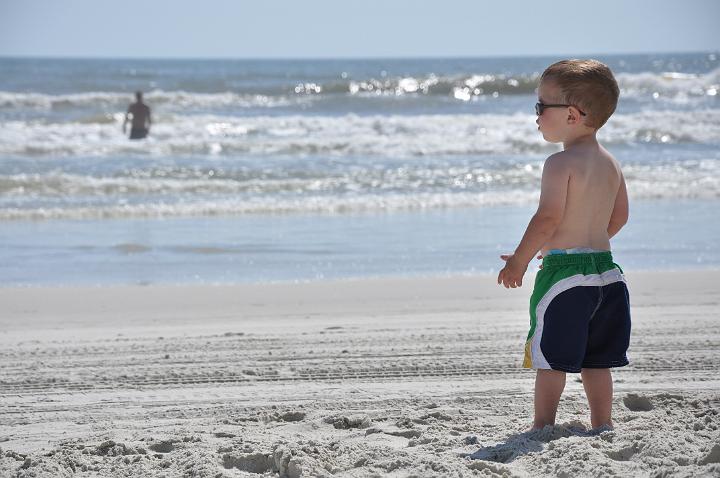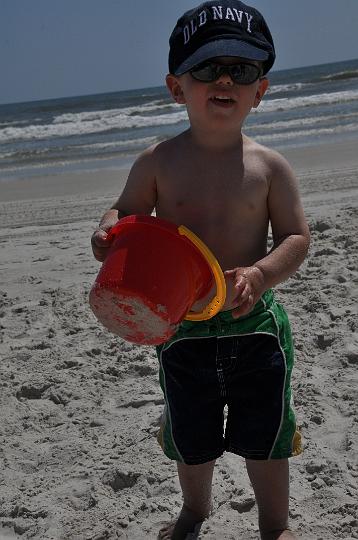 He liked pouring the water on the sand and splashing it in his bucket, so we made many trips back and forth filling up the bucket. Jackson would often walk to the edge of the water with us, but he never wanted to get in.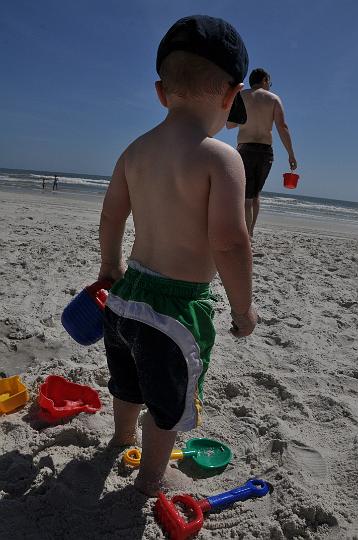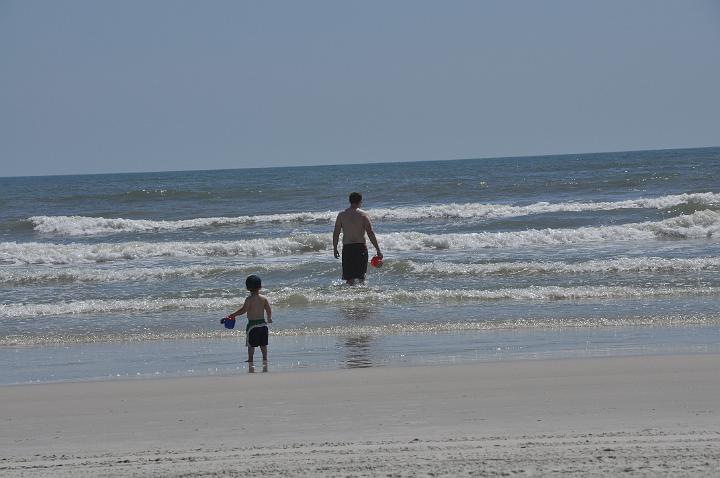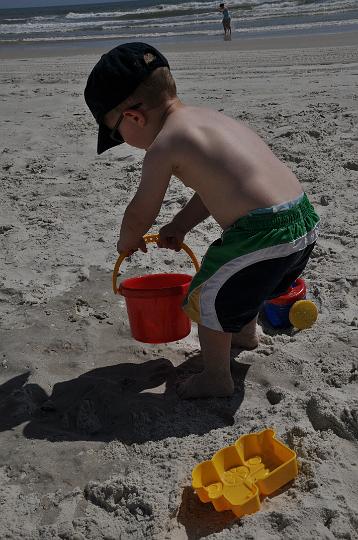 I have to say...he makes a pretty cute beach bum!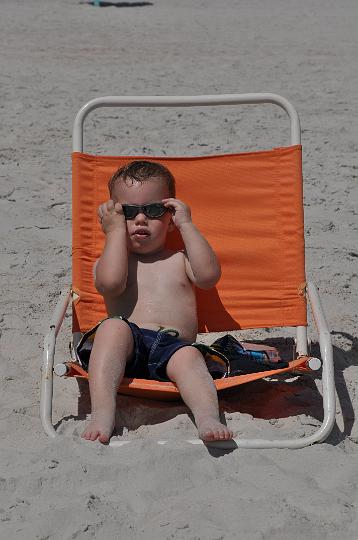 Around lunch time we headed back to the house to eat and take naps. We then spent the afternoon at a beautiful park before heading to a fun restaurant for dinner. It was just off of Sea Bird Island, and we were able to get a table outside so Jackson could watch the birds, boats, and dolphins!
Sunday was essentially a repeat of Saturday with different food. We couldn't have dreamed of better weather while we were relaxing on the beach, and we managed to get through both days without any sunburns! Monday morning came with lots of rain though, which made our drive back to Tampa fun. We had planned to stop at the Central Florida Zoo on our way back since our flight wasn't scheduled to leave until later that evening. Fortunately, the rain let up for a little while so we were able to check out all of the animals. Jackson's favorites were the kangaroos and the elephant. It wasn't enough for Jackson though...he wanted to see MORE animals.
We got to the airport several hours early, so we spent a lot of time entertaining Jackson. It wasn't until just before dinner that we discovered their play area. Jackson loved it! Fortunately for him, our flight ended up being delayed, so he got to go back and play more when we were done.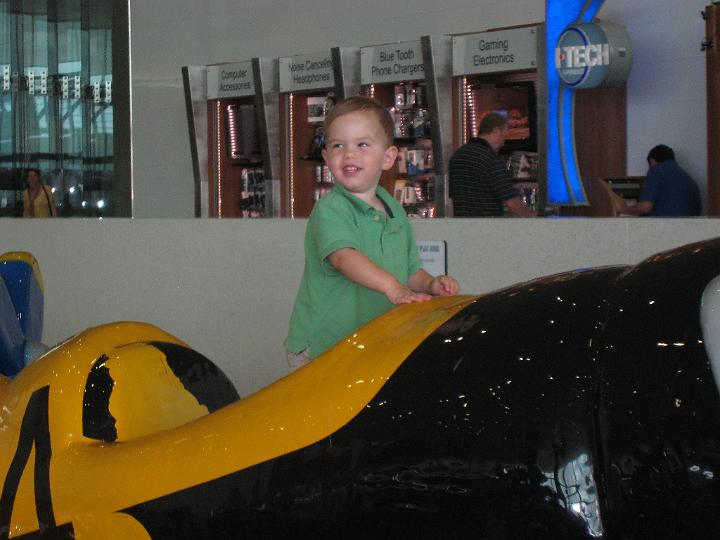 We ended up having delays on both ends of our flight. When we arrived in Houston we found out the airport had actually been shut down earlier in the day because of weather, so we had to sit and wait for a gate to become available. Jackson had finally fallen asleep on the plane, but sitting on the tarmac without much in the way of A/C for that long was more than he could bear. Both kids crashed hard when we got home, but poor Jackson still wasn't feeling great and woke up crying in the middle of the night...not at all normal for him. We hope he gets to feeling better soon!
There are more pictures from the weekend in the album if you're interested.