Tuesday, November 21, 2006
Another busy week has flown by becoming a blur and blending into the new week. Last week was spent in meeting after meeting…understanding software, planning for the EVA, planning for crew training, planning for the next ISS increment, planning for the next flight, and planning for future flights. I had the chance to do a little mentoring last week too, which is always fun and encouraging because it means that someone else should soon be able to help lighten our work load! Really I just enjoy helping people learn how to do this job and giving them feedback and encouragement…knowing that it will help me personally in the future is just a bonus.

Friday night our life group got together, and Jenny led us in some discussion and reflection about ourselves. It was a pretty neat exercise. She had us draw a face on one side of a piece of paper. Then we passed it around to everyone in the group, and each person wrote something about you on your piece of paper. Those comments turned out to be the surface level…what we put on, share with the people around us, and allow people to see. Then we flipped the paper over and wrote about the things that we were really struggling with or dealing with right now. Of course, that was the deeper side that we often don't share with people...we try to deal with it on our own and appear perfect to the world. The great thing about this is that we really don't have to go through life alone. Of course, we have God, but He has also provided us with friends to give the love and support we need. We just have to take the time and opportunity to share our lives with our friends so they can be there.

Saturday was a gorgeous day. I had to work on console in the morning, but in the afternoon, Ross and I went to the park and had a picnic. We threw the football and Frisbee around, played on the tire swing, and watched the sailboats glide by on the bay. It was a nice break from a busy week.

This is normally a week that most Americans look forward to. You get at least one day off of work, spend time with your family, and eat lots of good food. For me this will be a busier than normal week because I'm working on console in the evenings and supporting meetings and crew training during the day. There is a spacewalk (EVA) from the space station tomorrow where one of the crew members will be playing golf…I think it's for advertising. Then I get to spend my Thanksgiving with the crew. Ross is going to be cooking a delicious meal, so I won't be missing out on the traditional good food this year, but I will certainly miss getting to see everyone. Ross may go to a friend's house in the evening to spend time hanging out and playing video games…that should be fun!
Posted by

Elizabeth Taylor
at 3:56 PM
0 comments


Sunday, November 12, 2006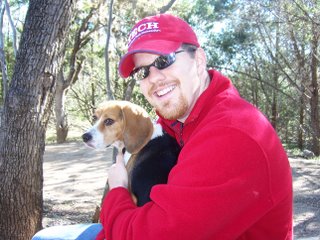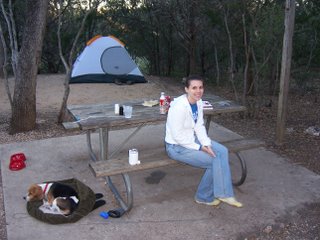 After a hectic week with little time to spend together, Ross and I took the weekend to get away! We went to Guadalupe State Park to go camping! It's the first time we've ever gone camping together, and I think we both agreed that we'll do it again. Our friends Emma and Chris were nice enough to let us borrow their camping equipment so we didn't have to spend a lot of money on something we weren't sure if we'd like. Thanks to their thoughtfulness in giving us more than just the tent and sleeping bags we thought we'd need, our trip was a success. We got there Friday night and set up camp in the dark. It got pretty cold that night, so we eventually got a fire going. The next day we hiked almost every trail the park has, which totaled 8-9 miles. The pictures are from the end of that day. We were all pretty tired...especially Bailey since she's used to sleeping most of the day. That night it got down to 40F, which we were not expecting! I know that's not very cold for some of you, but for us with no heater, that was cold! Today we went fishing for a while and then packed up camp to head home.
It ended up being a good day for Texas sports, which we listened to on our drive home. The Houston Texans won. The Dallas Cowboys won, and the Houston Dynamo are now the MLS (Major League Soccer) Cup Champions!!!
Posted by

Elizabeth Taylor
at 7:15 PM
0 comments


Tuesday, November 07, 2006
Today, when I got home and tried to close the garage door, things didn't go exactly as planned. After some (self-) debate, I decided to write about this in my
Projects Blog
even though it wasn't exactly a scheduled project. I thought I would post this link for those of you that aren't so interested in projects but might care to read about our
broken garage door
.
For those of you that have always wanted to work at NASA, you would have enjoyed my last week at work. I spent the last week and a half working in the Mission Control Center. If that wasn't exciting enough, I got to reconfigure systems onboard the International Space Station and respond to my first real-time failure. Fortunately, it was nothing serious, but that's what we train for.

For the next year I will be extremely busy working on all of my new assignments. I am now responsible for all of the planning and operations for my system that will take place in Increment 15, which is a 6 month period that a specific crew will be onboard the station. I am also responsible for the planning and operations for my system for the shuttle flight that will deliver the ESA Columbus module to the station, as well as for a new version of software that will be loaded onboard the station. All of that is on top of the tasks I already had and working on console...I'm going to be busy!

Ross and I had a great weekend. It started with our life group getting together Friday night. I didn't get to be there because I was working, but a few people were still there when I got home. Then I kept Ross up until 3:30 in the morning talking. Saturday we had Girls' Night/Guys' Night. 10 girls came over to our house. We ate lots of good food, including the crawfish pie that Ross made, we did makeovers with my friend Mary that sells Mary Kay, and we played games. The guys went out to eat and played pool. When they were done, they came back to our house, and we all hung out for a while. Sunday we went to our 2nd soccer (football for you non-US people) game. We saw the Houston Dynamo win their MLS conference game, which means they go to the finals next weekend! It was pretty cool.
Posted by

Elizabeth Taylor
at 6:39 PM
0 comments