The first part of this entry really contains most of the story. The rest of the time was pretty uneventful although I did see some other cool stuff so I'll share some of that now. When we went out to the launch pad to work, the Crawler was at one of our stops so I got a picture next to it (below). Unfortunately, it was dark so I didn't get any really good pictures but you can see how huge it is.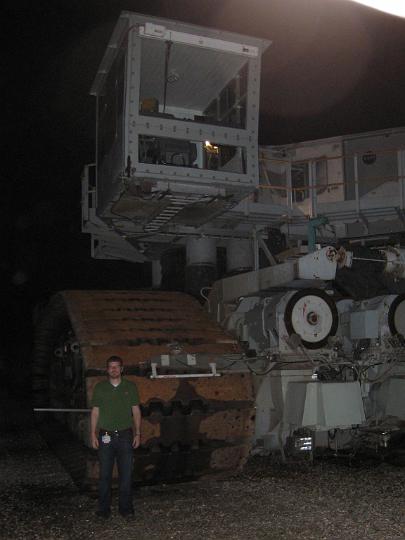 Speaking of huge, I took some pictures of the Vehicle Assembly Building (VAB) with some workers on it to give a sense of scale. You can see the series of pictures in the album or on Zooomr. Zooomr lets you add 'portals' on pictures so that when you hover over or click on a part of the image, you see the more detailed image. Sorry IE users, I couldn't get it to work in IE earlier but maybe you'll have more luck.
The other place I did some work this time was the Space Station Processing Facility (SSPF). This is where Station components are stored and worked on before being launched. There are pictures of most of the components in the album. Elizabeth was most interested in Columbus because she is the lead for her group for that flight. Lastly, Andrew and I were led to the Mercury launch pad where John Glenn became the first American to orbit the earth. Again it wasn't in great shape, but there were some cool monuments like the one below and the astronauts' parking spots are still there.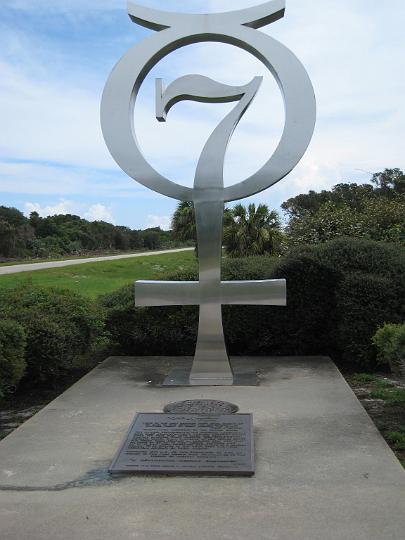 I also put the pictures of the Mercury Monument on Zooomr with the same click zoom coolness!