It was a rough week for Jackson, but I won't complain because I got to spend more time than usual with him. Although, I'd prefer him to be well all the time! Jackson started acting really grumpy and not sleeping well last weekend. Then on Monday, we got a call from the day care saying he was running a fever. When I picked him up it was apparent that every kid in the class was sick, and Jackson was just getting started. Aside from the fever, which ranged from 101 to 103, he seemed pretty normal until Wednesday.
Wednesday was Safety and Total Health day at work, which starts off with breakfast for everyone. I'd signed up to bring a not-so-healthy breakfast casserole, so I decided to drop the food off and take Jackson to the doctor since he was still running a fever but really showed no other symptoms of being sick. Well...when we dropped off the food, Jackson got sick all over the backseat of my car and then passed out. I'd forgotten to bring a change of clothes with us, so we went back home and let Jackson sleep. He literally slept ALL day. We did end up getting a doctors appointment that afternoon, but they didn't know what specifically was causing the fever.
After a lot of rest Jackson's fever finally broke, and he's been slowly returning to his happy, easy-going personality.
We spent most of the day yesterday working in the yard, and Jackson spent some of the time hanging out on a blanket enjoying the beautiful day.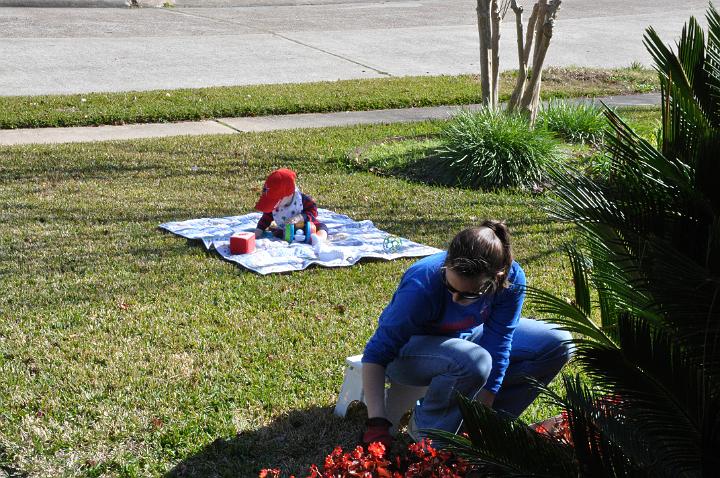 We discovered we don't have any brimmed hats that fit Jackson, so he had to make do with sunscreen and my Cowboys hat cinched as tight as it would go. He didn't seem to mind it despite the bill being as big as his head!