This weekend was our first official trip with Jackson, and he did really well! We drove to Shreveport on Friday afternoon, which took a good bit longer since we had to stop a couple of times to feed Jackson. He slept during most of the drive, and ended up sleeping almost 7 hours that night!
Saturday morning we went to Ruston for the graveside service for my cousin's son, Alexander. It was a very sad but nice service. It's always hard to understand why God does things the way he does in situations like this. Jackson was born only 6 days before Alexander and Andrew, which made the loss of Alexander even harder for me. It was wonderful to meet Andrew this weekend though. The rest of the day was spent visiting with family and friends. Jackson got to meet both sets of his great grandparents on my side of the family!
Jackson slept really well that night too...6 hours! Unfortunately, the trend didn't continue when we got home.
Here are some pics from the weekend...
Great Grandmother (Dot, E's Grandmother), Nana (Deana, E's mom), and Jackson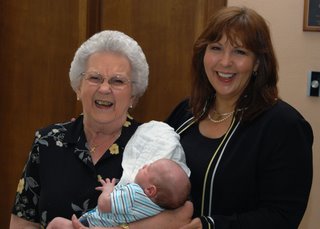 The girl cousins. Meg, Stephanie, Tiffany, and Elizabeth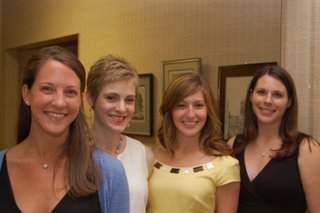 Elizabeth, Ross, and Jackson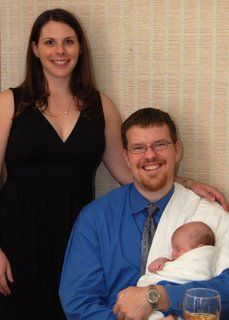 E, G-daddy (Kim, E's Dad), Great Mamaw (Marty, E's Mamaw), and Jackson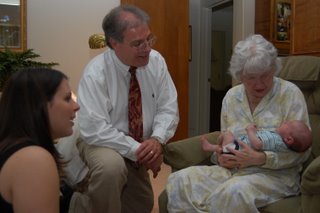 Great Papaw (Hank, E's Papaw) and Jackson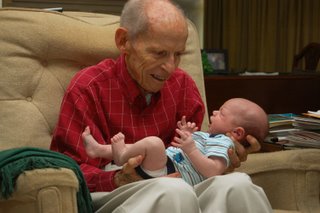 Barbara and Jackson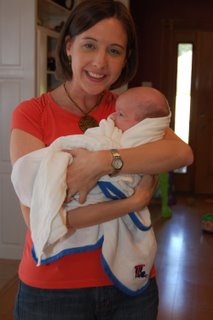 Great Grandmother with Jackson and Andrew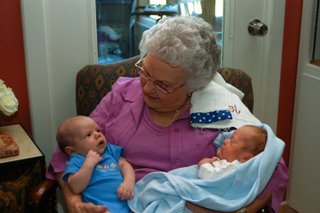 Great Grandmother holding Andrew and Great Granddaddy (Harry Dean, E's Granddaddy) holding Jackson Dean