We had a great weekend! My cousins, Bud and Meg, were in town. Bud is a horse trainer and was in town for a reining horse show in Katy, TX, and Meg made her way here to squeeze in a visit with both of us while she could. Saturday morning we drove to Katy to watch Bud show a couple of horses. We met up with Meg for a late breakfast before watching Bud ride. Jackson couldn't wait to see the horses! When we got settled in our seats they were dragging the arena and playing some good music, so Jackson decided to be the entertainment for those around us by dancing in his boots and hat. All of the ladies around us LOVED it! Here's a picture and a short clip of him in action.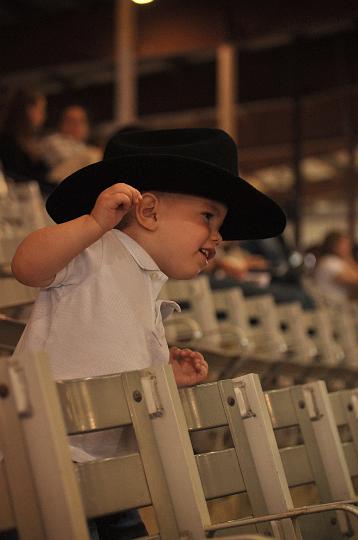 Bud showed 2 horses on Saturday, and we were there for the first one he rode. I absolutely love watching Bud ride, and he did awesome! He ended up placing 2nd with the other horse he rode, but did really well with both! Way to go, Bud! Here are a few shots of Bud in action.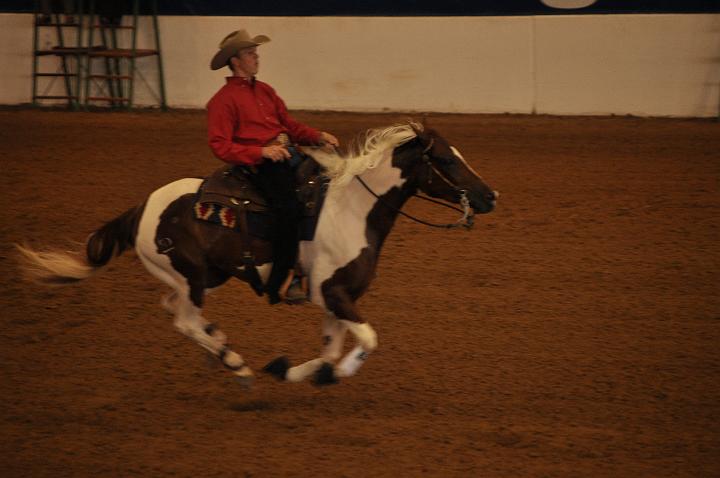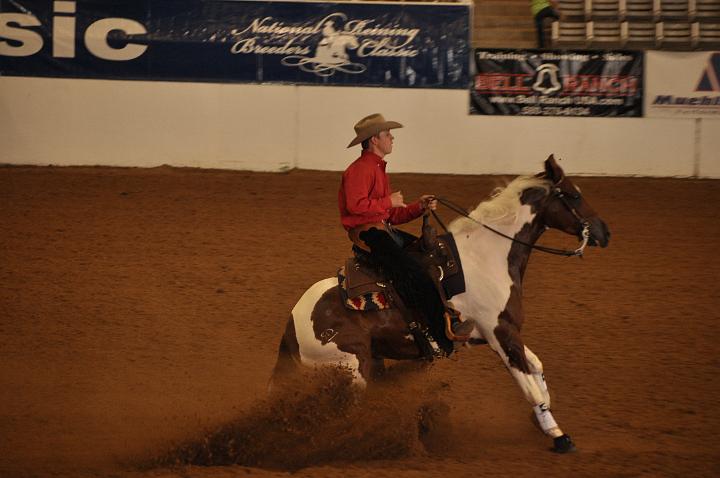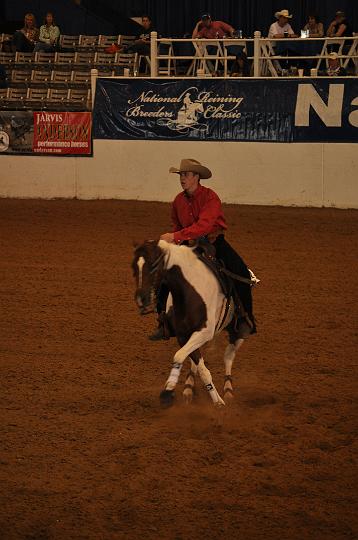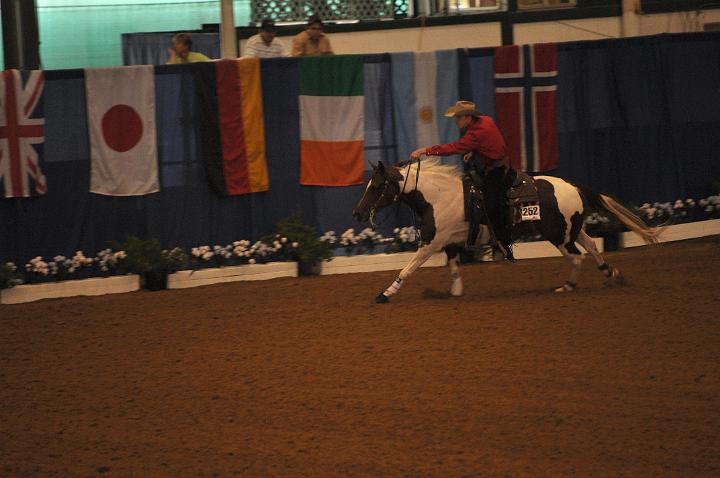 After Bud finished his first ride of the day, we made our way to the barn to visit a little and let Jackson meet the horses up close. He was actually a little nervous to meet them, which surprised all of us. This is the first time he's seemed scarred of anything! He did eventually pet one of them though and loved looking at them.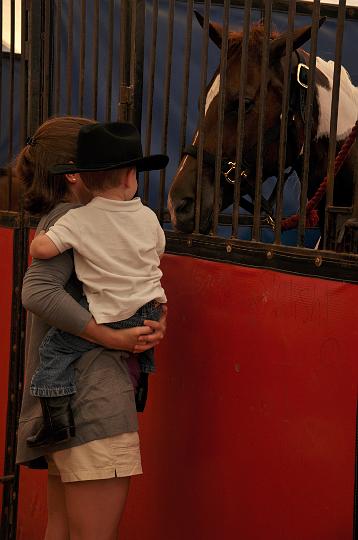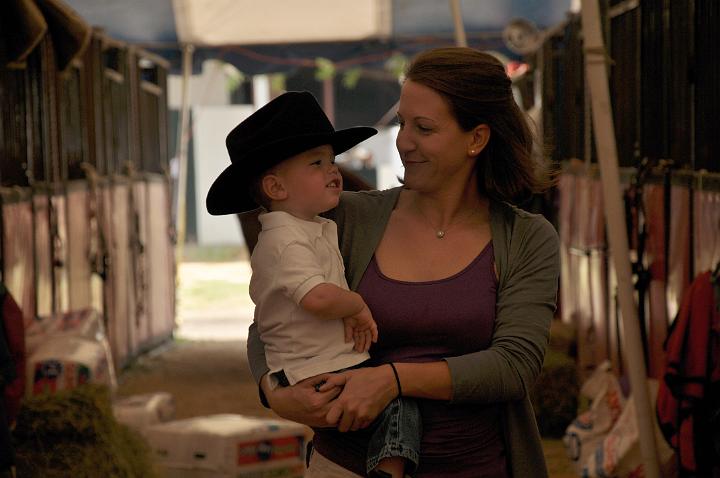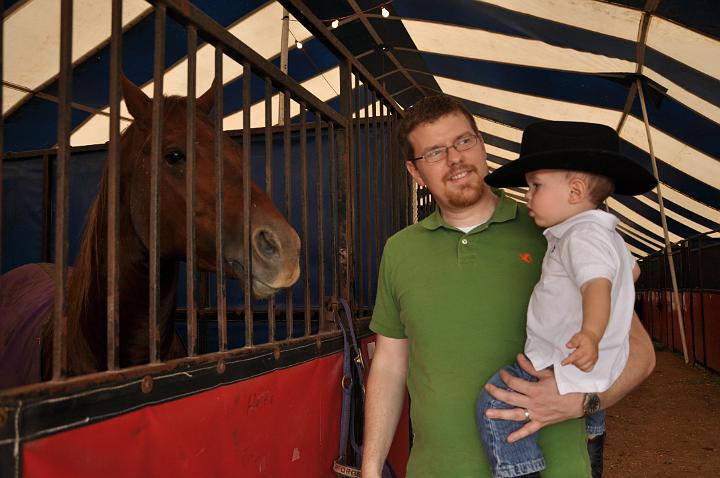 There are more pictures of the horse show in the album.
We didn't get to stay for Bud's second ride of the day because Jackson was in desperate need of his nap. Instead we spent our afternoon at a friend's crawfish boil. It was delicious! I didn't get to eat as much as I would have liked since Ross and I were splitting our time watching Jackson and Audrey. Fortunately, we had some "extra" hands that were willing to help out. I didn't get any pictures, but Jackson discovered his love of trampolines while we were there. They had a big trampoline with a net around it, and Jackson would run from one side to the other and throw himself into the net laughing hysterically. He also loved having the big kids bounce him and his friend, Maddie, around in the middle.
Sunday we went out for a walk in the neighborhood, and took a few pics of Jackson checking out a fallen, but still growing, tree.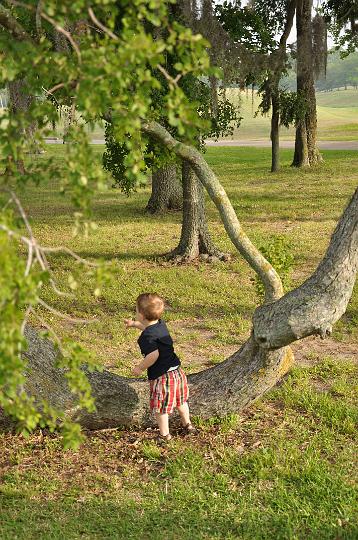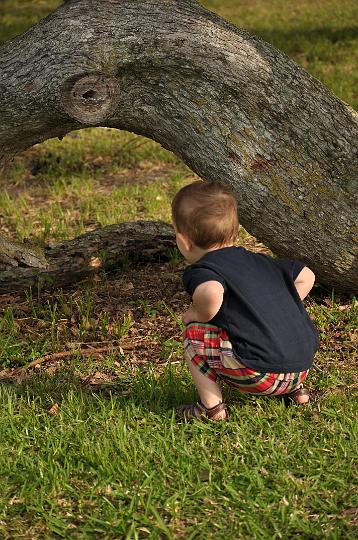 On the way back we decided to stop at the park, and there was a huge jack rabbit sitting by a tree. We didn't get to stay and play at the park because Bailey was way too excited about the rabbit.
Sunday evening we had one of our former youth from church keep Jackson, and we took Audrey to dinner with us to celebrate our friends', Pam and Sara's, birthdays. It was great to catch up with everyone!
Audrey was pretty good all weekend. She, of course, cried through Bud's ride, but she was hungry! We're still working to figure out her routine. We've definitely been experiencing fussiness in the evenings, but that's to be expected at this age. She's doing great during the day and at night. Most nights she's already sleeping through the night (10 PM to 6 AM), and if she wakes up, it's only once! I'm hoping that continues! She's a strong girl and seems to be growing everyday, and yes, she looks exactly like her brother did at this age!