The latest kid news is at the end...
After over a month of working on the weekends, our backyard is done! At least mostly...we have one more plant to get, but they didn't have any of it this weekend. I know I posted some pics from last weekend, but I thought I'd put the before and after shots here. Every time we complete a project like this our house feels more like OUR home. It's a wonderful feeling of accomplishment. As I said last week, we moved 7 yards of dirt to create these flower beds, which required renting a sod cutter to remove the grass before that. We planted a grand total of 162 plants over the last two weekends alone! It's been a lot of long hours in the HOT sun to get it done, but I love the finished product. I imagine it will look wonderful once everything begins to fill in...assuming we can keep it alive! Of course, I'm not sure we would have been able to get it done so quickly had we not had help with the kiddos from my mom and dad. Thanks to you both!
From the patio...
Before...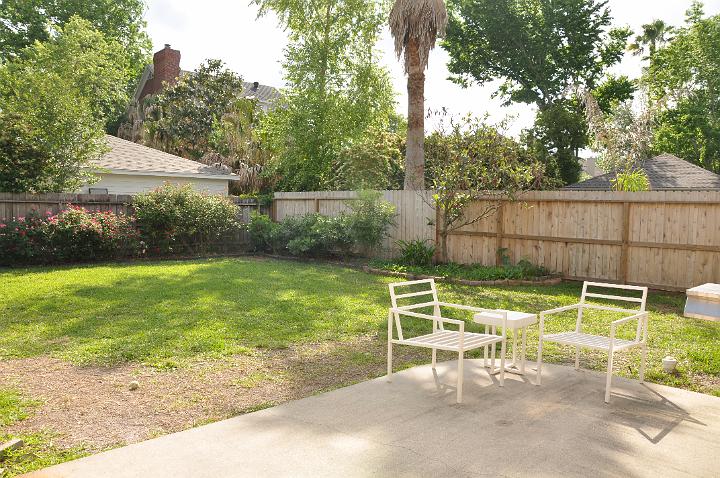 In work...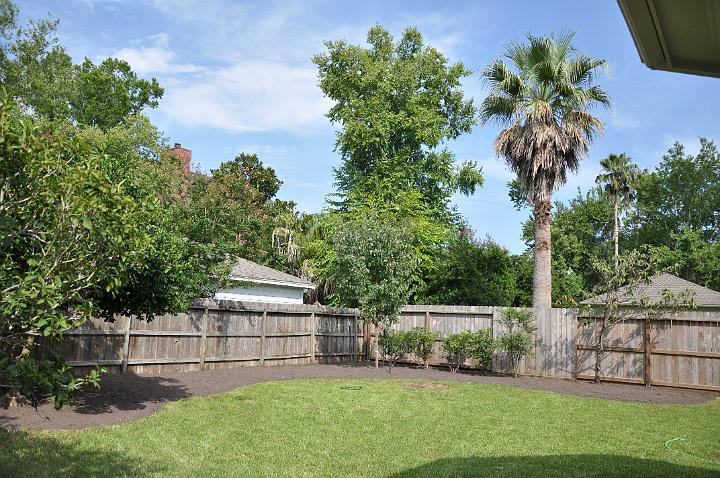 The finished product...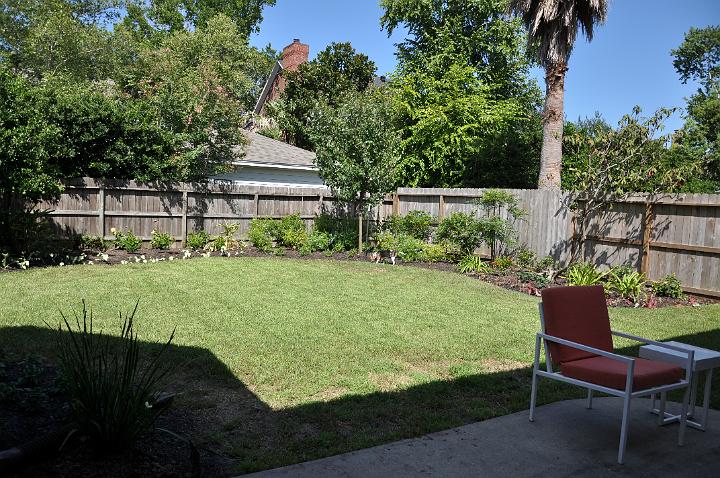 From the side of the yard...
Before...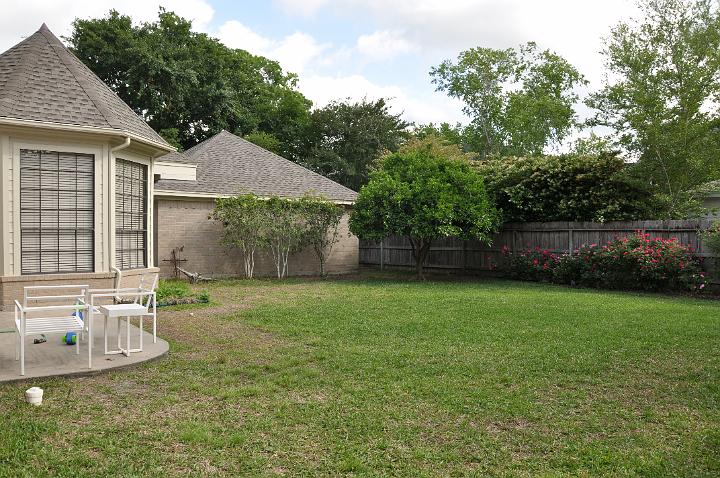 In work...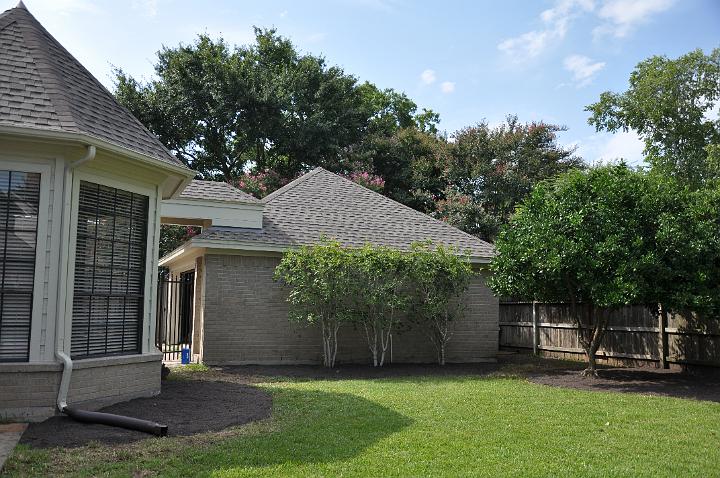 The finished product...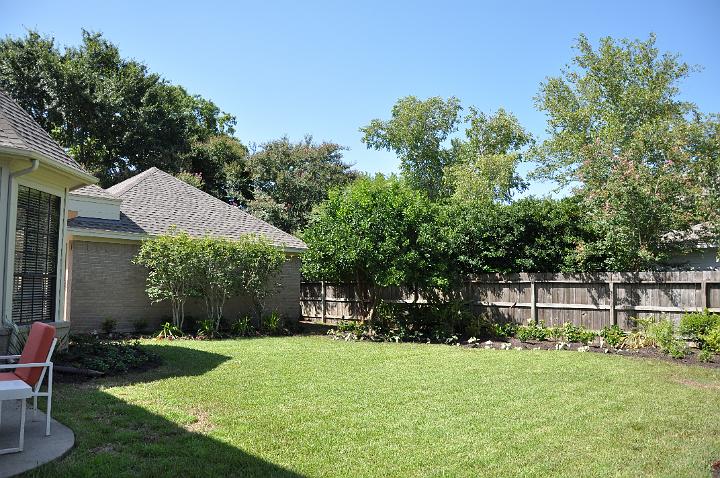 There are more close up pictures that show the plants better in the album. If you don't care about plants, you can just skip to the next paragraph. The back fence is lined with hibiscus, varigated ginger, and pitosporum with a row of ixora and plumbego in front of them. Then there is a border of caladiums and lantana along the edge. The side beds have indian hawthorne and agapanthus, and under the loquat tree there is another ixora and hibiscus along with a few bottlebrush. The bed by the house has bottlebrush and pentas with a huge iris that's in bloom. The plant we're currently missing there is the scavola, which will go around the iris. Under the orange tree we have some dwarf philodendron and green ginger.
The next project will be putting together Jackson's swing set. Hopefully, we can get that done soon and enjoy our new backyard! I only got one kiddo picture this weekend, which was of Audrey and Pop becuase their outfits coordinated so well. :-)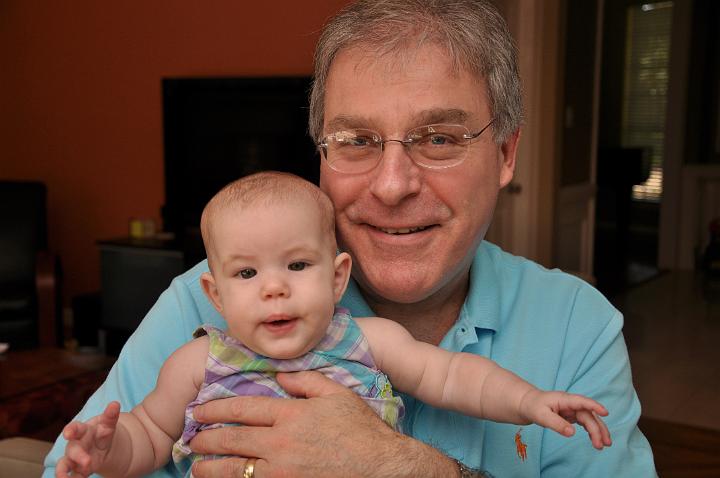 In addition to the yard work this weekend we also got to have a little fun. We spent some time with our friends. We had a nice dinner out with the Fullilove family Friday night, and got together with several of the families in our life group to hang out and do some grilling tonight. My dad also stayed with the kiddos Saturday night so Ross and I could go on a "date". We went to get ice cream and then went to the grocery store...does that count? Whether it does or not, we had a good time...we're exhausted, but pretty content.
Jackson and Audrey have both had pretty eventful weeks. In the last post, I mentioned that Audrey had rolled from back to front once. Well, now she's a pro. She flips over all the time now. She also likes to rock onto her knees and scoot backwards already. I have a feeling she's going to be an early crawler...not sure if I'm ready for that!
Jackson finished his swim lessons this week, and I was a super proud mom when he climed out on the side of the pool all by himself the last day! A new sudden interest of Jackson's has become the movie Cars. He's addicted to the movie, it's case, any related toys, and anything with a picture of the cars in the movie. I can't decide whether to encourage this or let it pass...only time will tell.