This picture of Jackson sums up the emotions we've had over the past week...tears, laughter, and exhaustion.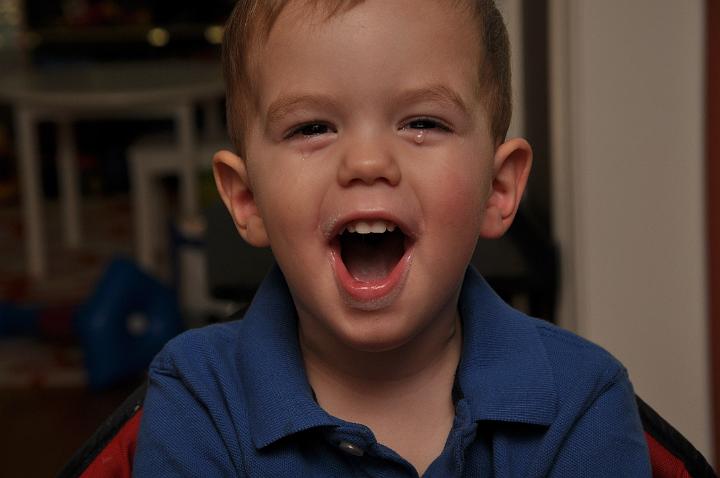 Last Saturday Ross' dad, John, went into the hospital. He had an acute liver event that put him in the ER and then the ICU. The doctors were pessimistic after reviewing his medical history, but they didn't know who they were dealing with! When one of his doctors that knows him arrived, the attitude changed completely, but he wasn't necessarily in the clear at that point. Ross and I loaded up the car as fast as possible that day and made our way to Shreveport. We dropped the kids off with my parents and met Ross' mom, Susan, at the hospital. We got about two hours of sleep before seeing John at the next visiting hours, which were at 5 AM. Ross' sister, Leslie, and her family made it all the way from Leakey by 7 AM. The first 48 hours were pretty scary, but on Monday he had a turning point. They now believe the liver event was triggered by anesthesia he had earlier in the week for an out patient procedure. By Wednesday he was moved from the ICU to one of the regular floors and was able to return home this Saturday. We came home on Wednesday when John was moved out of ICU, and Ross went back to Shreveport on Friday night to be there to help out when John came home on Saturday. We are so thankful for all of the prayers and support from family and friends. It definitely made a difference! More than anything we are thankful to still have John in our lives!
While Ross was in Shreveport this weekend, Jackson and I made our way to the Houston Zoo for a birthday party. Our friends, Todd and Heather, kept Audrey so she could get her morning nap and some quality time with them! We had a blast at the zoo. Jackson loves seeing the animals. The river otter exhibit has a window that lets you see the otters swimming under water, and Jackson followed them back and forth for a while. He also got to pet a chinchilla and a 2 year old alligator! The carousel was one of his favorite things we did that day. He got to ride a bear and an elephant! Many thanks to the Allyn family for such a fun time!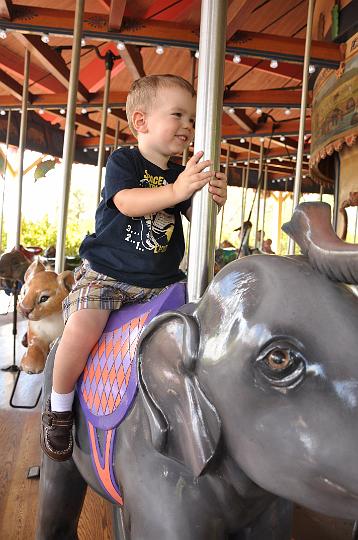 Today was a pretty typical Sunday. I took the kiddos to church this morning, they napped after lunch, and then we made our way to the grocery store. I have to admit...this was the first time either of us have attempted taking both kiddos to the store by ourselves. It went surprisingly well. Now that Audrey is able to sit up she can ride in the buggy, so bye-bye sling!
Jackson has had a rough time since we got back from Shreveport. He was sent home from daycare on Thursday for biting and then ended up getting a fever on Friday. I can't decide if the fever is from teething...he's getting his 2 year molars in, which could explain the biting too, or if this cold he's had for about a week has settled into his chest and turned into something worse.
Audrey had the same cold, but surprisingly she's already over it! I dressed her up for church today. Our church is pretty casual, so we don't have a good excuse to get dressed up. My grandparents gave Audrey a beautiful pink, smocked dress at her baby shower, and I was planning to save it for her baby dedication. Unfortunately, I think she's going to out-grow the dress before we can find a good date to schedule it, so I decided to dress her up for church and take a few pictures today.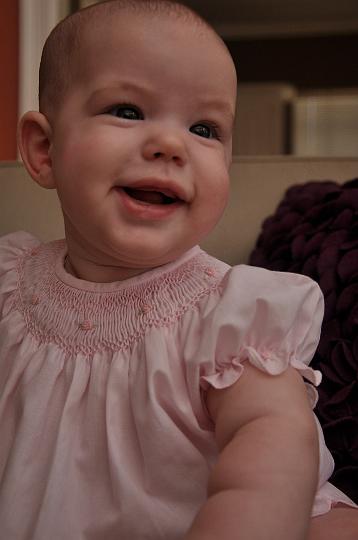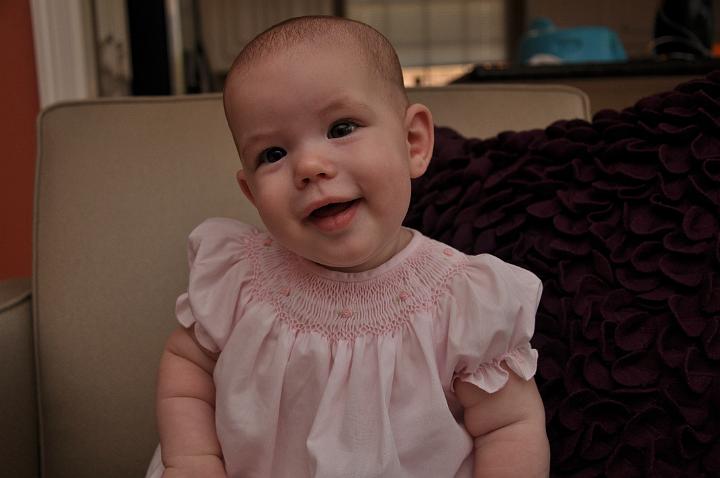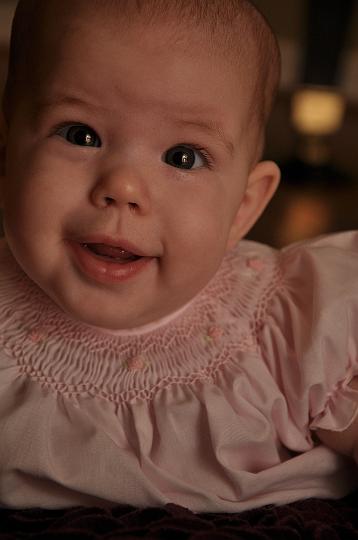 This one's for Barbara...her monogramed bloomers are adorable!
There are more new pictures of Audrey in her album.
I also managed to get a couple of pictures of Jackson and Jackson with Audrey today too. Getting him to smile for the camera is impossible right now, and I didn't have my "clown" to help get their attention, so they're pretty focused on their train toy.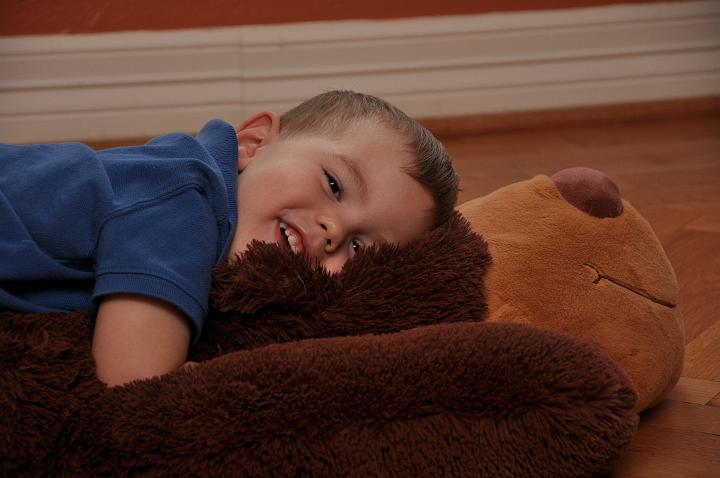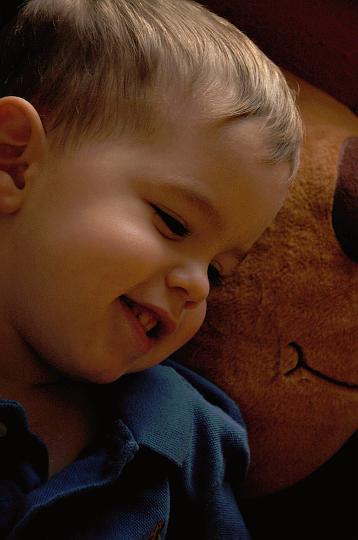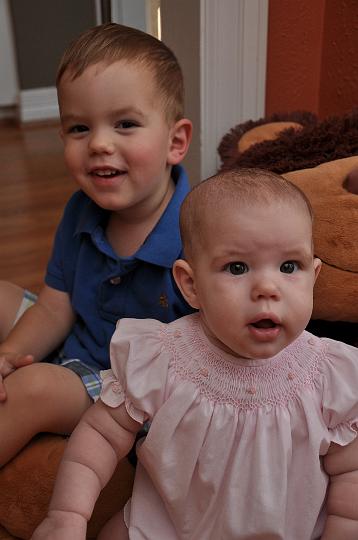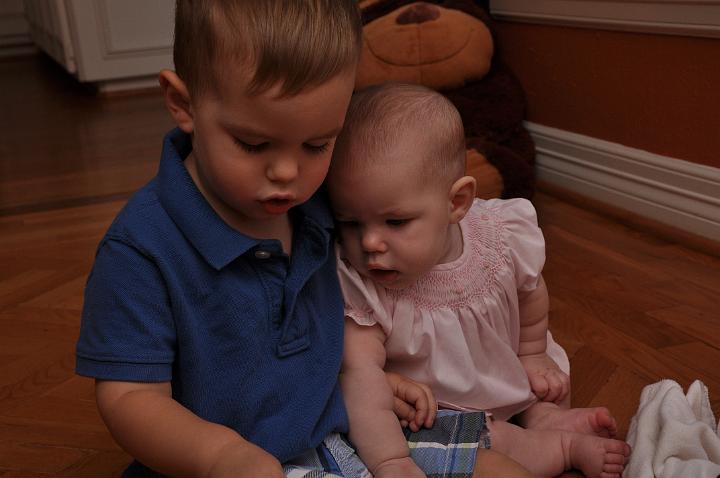 He's such a sweet big brother...most of the time.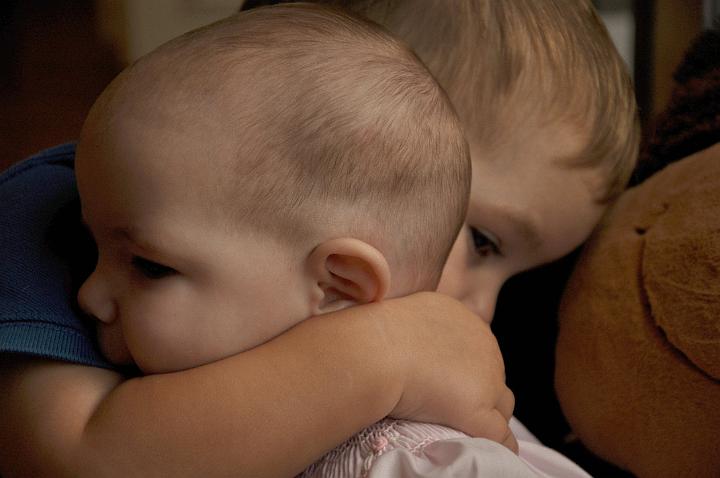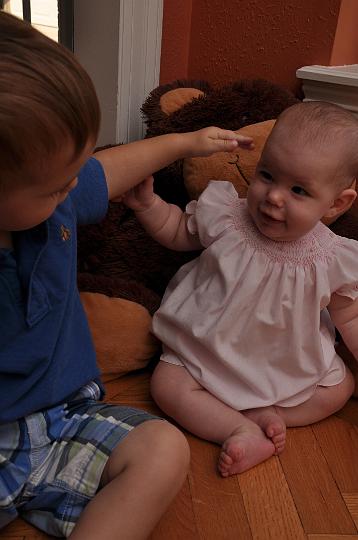 There are more pictures of Jackson and Jackson with Audrey in his album.
Tomorrow is the beginning of the new school year! Jackson will be moving up to a new room, and Audrey will begin attending the same day care. We're excited to see what this year has in store!