Ross' Father's Day got off to a rough start. Our first night at home was spent trying to keep Jackson happy. We took turns trying to figure out what Jackson needed. He finally decided to sleep around 5 this morning. I guess he's like most babies and has his days and nights confused right now.
Despite the rough night, we can't help but fall more and more in love with our precious little boy. Today we've enjoyed watching him sleep and playing with him whenever he's awake. To celebrate Father's Day, Jackson gave Ross a tool chest in appreciation for all of the things Ross built for his room.
Here are a couple of snapshots of Ross' Father's Day with both of his kids.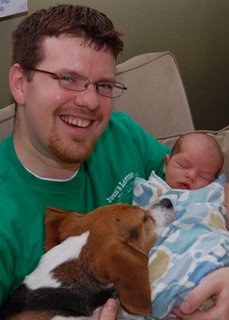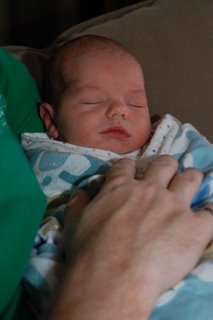 Since this is my first post since Jackson's arrival, I want to personally thank everyone for all of the thoughts and prayers. We are so thankful for our family and friends. Things didn't exactly go according to our plans, but God knows best. His plans are perfect. We have had such good care throughout this experience from an amazing doctor and team of nurses to wonderful new grandparents taking care of our needs and just loving Jackson. I also have to send a huge thanks to our friends Emma and Chris who have been helping us by running errands and providing meals the last few days. Every prayer and gift, whether time, food, or baby things, have been greatly appreciated. Thank you!
Happy Father's Day to all the dads out there!