I have two of the best friends ever! My friends Emma and Barbara conspired to surprise me Friday morning. Barbara lives in Ruston, LA and is Jackson's Godmother. She wasn't supposed to be able to make it to Houston until mid-July, but we got a knock on the door Friday morning...standing there were Emma and Barbara. Emma lives here in Houston, and she worked everything out so Barbara could stay with her Thursday night and surprise me in the morning. They had been planning the surprise since the day Jackson was born! They let Ross in on the secret too, so I am very impressed they were all able to keep it from me!
Barbara spent two days taking care of us and helping with Jackson. It was so wonderful to get to spend some time with her! Here are a couple of pictures of her with Jackson.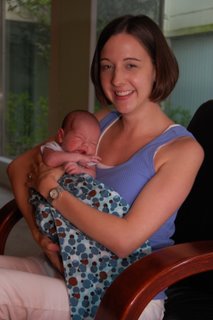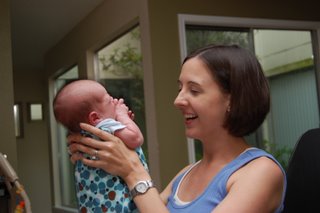 We also had a couple of other visitors this weekend. Ross' Aunt Dottie and Uncle Jim were in Katy, TX for a wedding today, and they made the drive to Clear Lake to meet Jackson.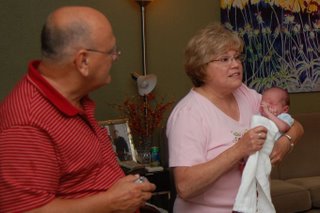 Then our friends Rhea and Andrew and their three kids stopped by. They have some of the best kids we've ever met, so we always appreciate their advice and enjoy their company!