Saturday morning we woke up early again and headed to Orlando. Our destination for the day was Disney's Magic Kingdom, and it lived up to the hype. We all had a blast! Emma was our planner for the trip, and boy did it pay off! Another friend of mine, Whitney, passed along some invaluable information about what to do, how to plan, etc., which I passed along to Emma. With that information, Emma planned a full day of fun activities for the kiddos and adults. We did most rides and shows together, but we also took turns watching the kids so the adults could ride the roller coasters. It worked out perfectly!
Apparently, I was taking too many pictures because I got the hand!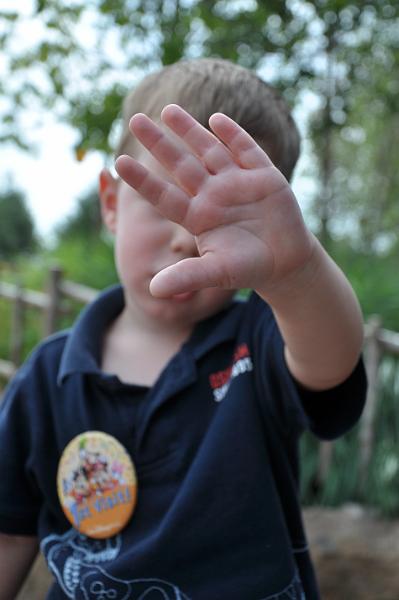 Don't worry though...the hand doesn't stop me!
In case you were wondering what hot and tired looks like, here you go!
They recovered just in time for the afternoon parade, and we had great seats!
Jackson and Clara were both mesmerized by the parade as by most things at the park. Jackson's response was to become very serious and study what's going on, but we did manage to have him wave a few times.
We rounded out the day with a visit to see Mickey and Minnie while Clara went to see the princesses. Jackson was so excited while waiting in line, but when his turn rolled around, he got a little scared. We managed to get a picture with Jackson in between us and Mickey and Minnie on either side. This was pretty typical for the trip. Jackson didn't want anything to do with the characters!
When all was said and done, we had two exhausted kiddos and four exhausted adults! We made our way to Downtown Disney for dinner before heading back to the rental house, but the kiddos crashed in the car, which was good since we did it all over again the next day at Animal Kingdom!
There are more pics in the album!