Ross and I went to Prague, Czech Republic last week. We attended the International Astronautical Congress. It was a really good conference with lots of interesting people and presentations. Ross was there to present the work he and his company did in Hawaii earlier this year. He did an awesome job as expected! The conference was a good reminder of the big, global picture of the space industry for me. I have a tendency to stay very focused on the International Space Station efforts, so I really enjoyed being able to take a step back and see where I fit in the bigger picture. I also got to catch up with a few friends from International Space University, which I attended over 4 years ago now!
Ross' mom, Susan, came to Houston to keep Jackson and Audrey for the 10 days we were gone. His sister, Leslie, and our nephew, Mitchell, joined her for the first weekend. I think they had their hands pretty full, but I know Jackson and Audrey had a good time. Susan got to take Jackson to his first dentist appointment after he loosened his tooth running into the corner of a desk and busting his lip the day before we left town. He didn't end up doing any permanent damage, which was good news, and his face and mouth are both almost back to normal now. Kids heal so quickly! The next weekend my mom, Deana, joined Susan for a couple of days to give her a little break before we returned on Sunday.
We left Houston Friday afternoon and arrived in Prague Saturday evening. After getting settled in our room we decided to go for a walk to check out the town. We decided to head to Old Town. The weather was pretty dreary, but we didn't really care. We were there to see a new part of the world! We walked a couple of miles down one of the main roads and ended up having dinner in one of the squares next to a market where we could do some people watching. Here's a picture of the museum at the head of the street that we started on.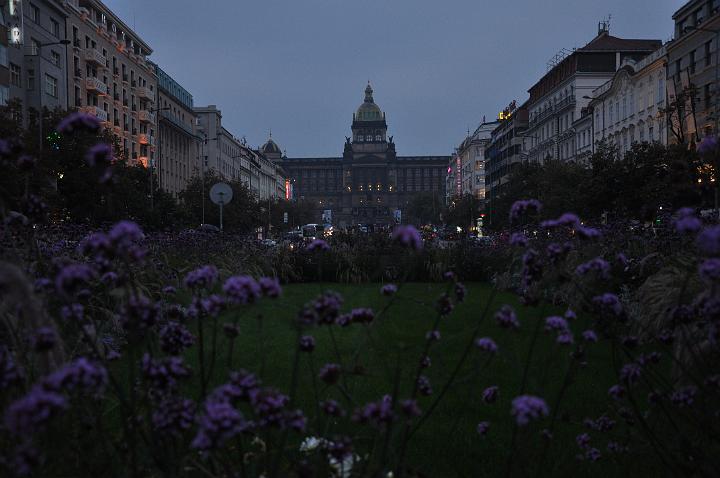 We only had one full day before the conference and one day after to really do the tourist thing, so we picked up an extra umbrella (we'd only brought 1) along with some breakfast and headed out first thing Sunday morning. We started at Charles Bridge, which connects Old Town and Malá Strana.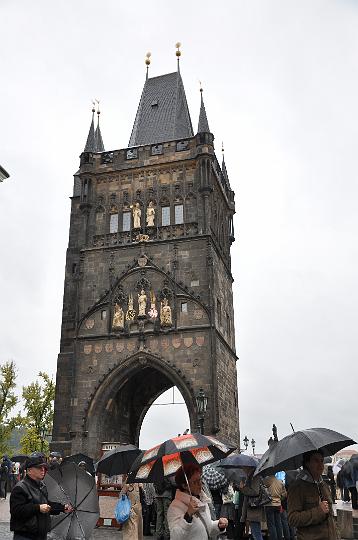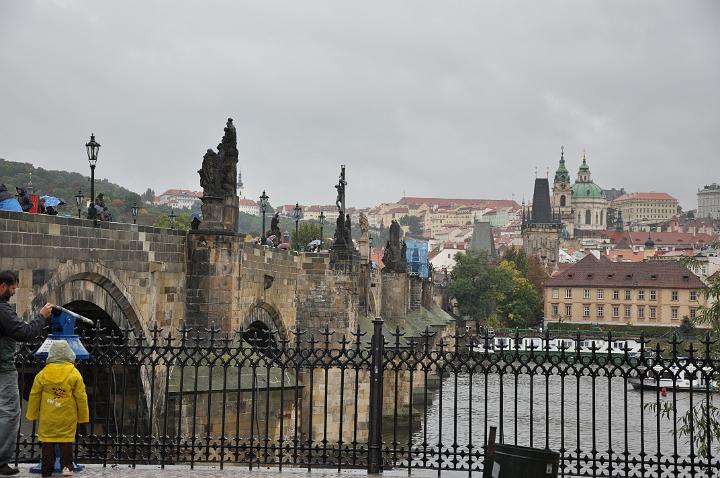 The bridge is lined with statues on both sides, and you have a good view of the Prague Castle area's St. Vitus Cathedral.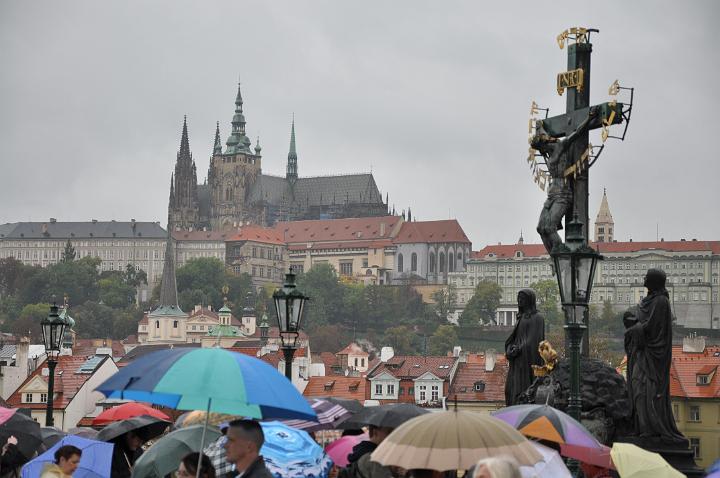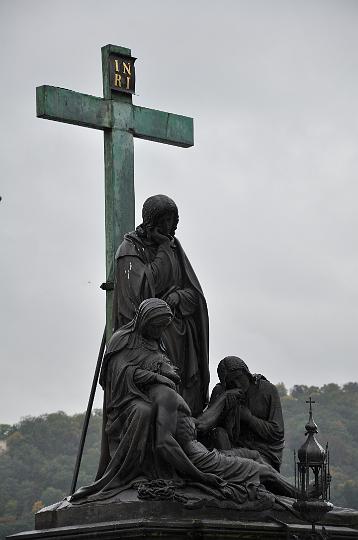 One of the statues was of St. Elisabetha...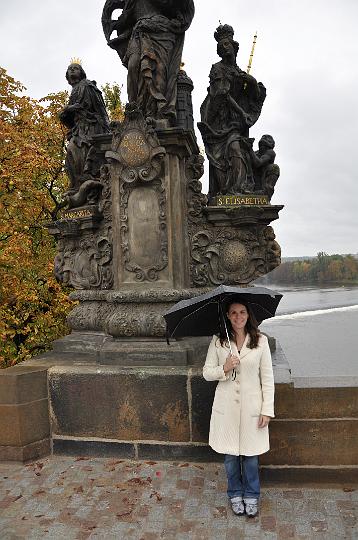 There were lots of artists and street vendors lining the bridge as well, and we actually picked up a little ceramic flute with a Prague skyline painted on it for Jackson. He's had lots of fun making noise with it since we returned.
About 100 yards before the end of the bridge, there is a set of stairs leading down to Kampa Island. We decided to check it out, and were so glad we did. There was a beautiful park and a contemporary art museum that we really enjoyed wandering through. I had fun taking pictures of some of the more interesting pieces...some of which were outside.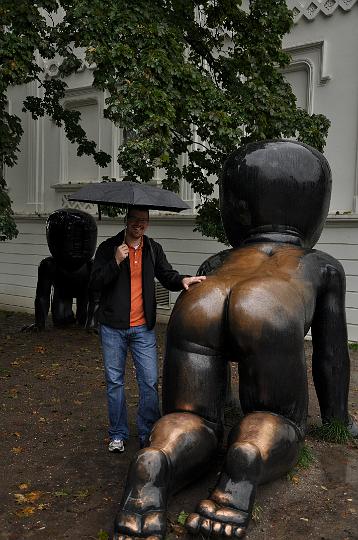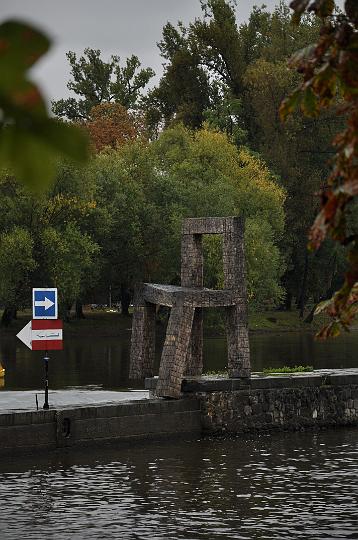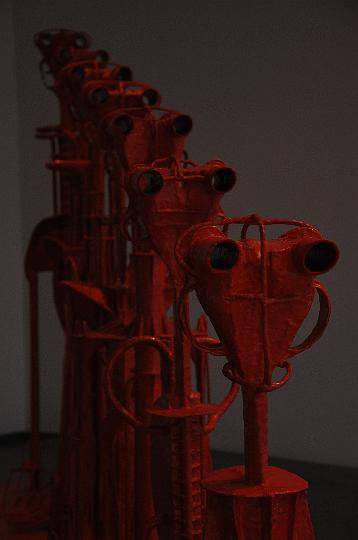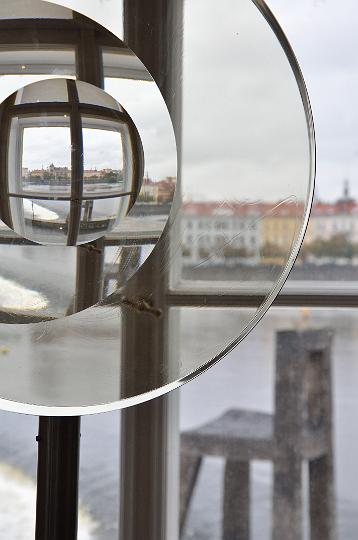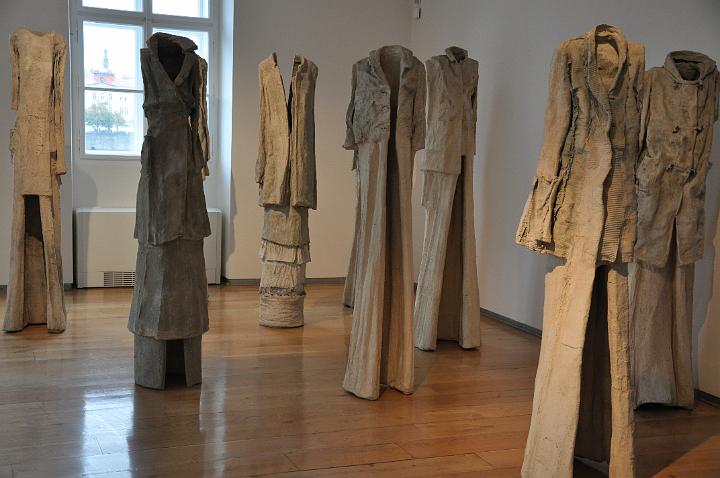 I didn't let go of the camera very often while we were there, so Ross snapped a picture of me after I stopped to tie my shoe at the gallery.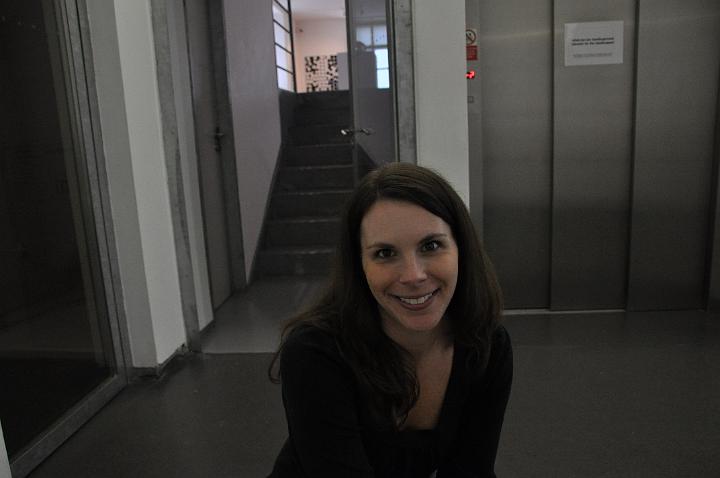 From there we made our way up to the Prague Castle area. This was the view of the city from the entrance.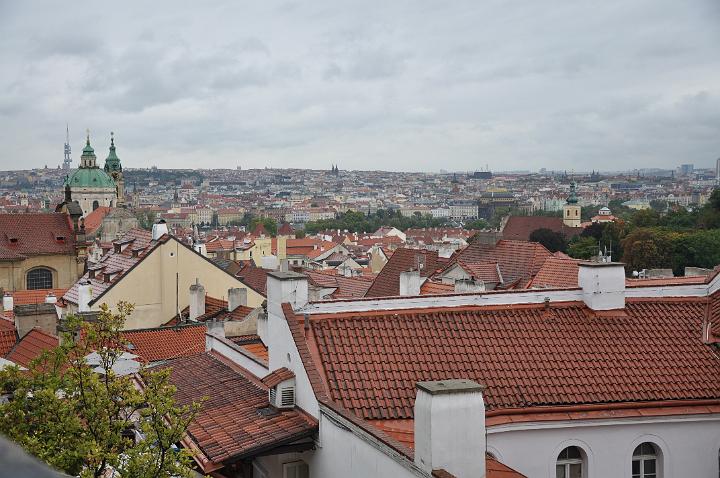 Prague Castle is the largest castle area in the world. It's very different from what we typically think of as a castle. It's not a single building, but an entire area that was founded around 880. Walking down the streets gives you a real sense of the history that's hard to describe.
Here's a close up picture of St. Vitus Cathedral, which is what stands out from the area when wandering through Prague.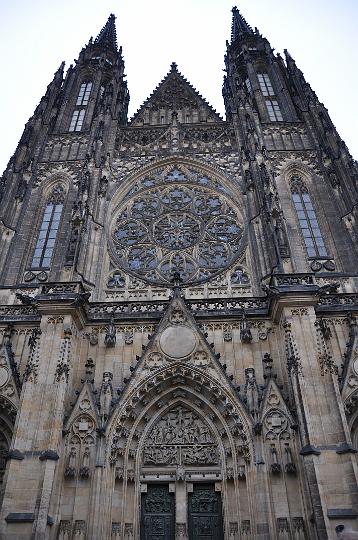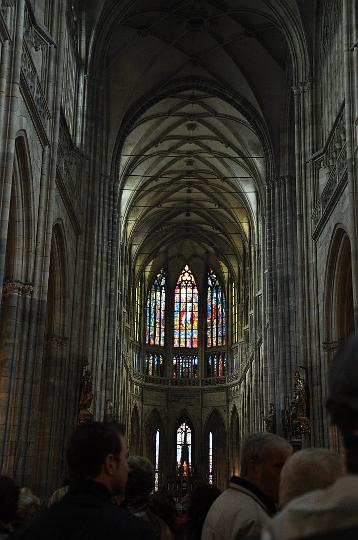 As we left the castle area we stumbled upon a wine festival and decided to check it out. There was a little vineyard on a hill in the middle of everything.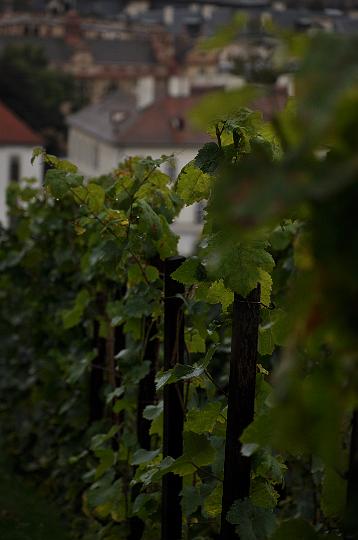 We had a great view of Charles Bridge from the vineyard.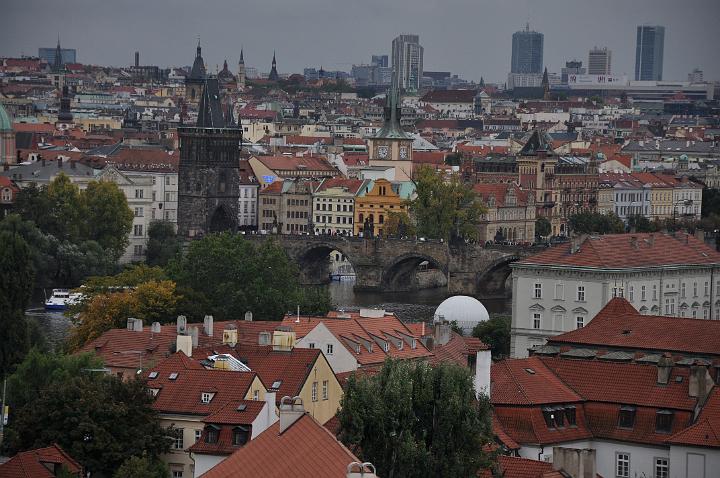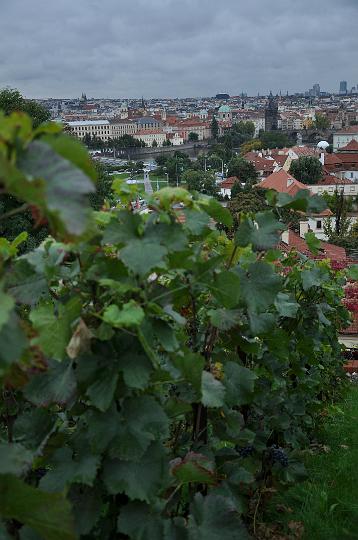 That evening we found an incredible restaurant where we stuffed ourselves before heading back to the hotel to prepare for the conference.
We didn't do much in the way of picture taking during the conference, but we did enjoy ourselves. The opening ceremony involved a wide range of talents from singing and dancing to a black light show. The welcome reception the first evening was a fun event held at the conference center that allowed everyone to spend time checking out the booths and saying hello to the 3400 people in attendance from around the world. As part of the "young professionals" group, Ross and I had the opportunity to participate in several extra events that included meeting with NASA Administrator Charlie Bolden for a question and answer session.
We also participated in the "fun evening" at U Flecku, which is one of the most famous landmarks in the Czech Republic. It's a brewery and restaurant that has been brewing beer for 500 straight years!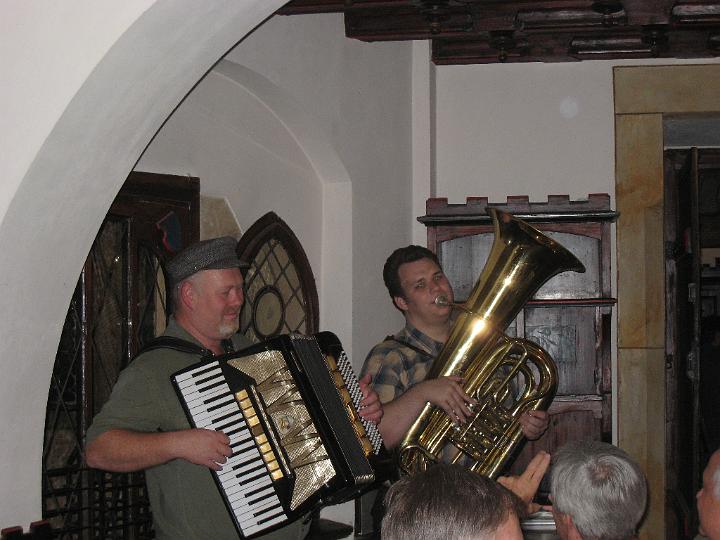 The other planned events during the conference included an evening at Prague's Planetarium and dinner at a beautiful French restaurant.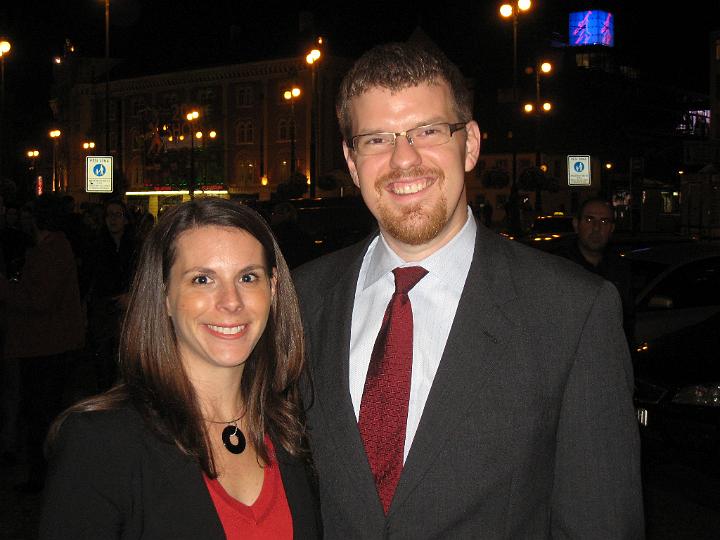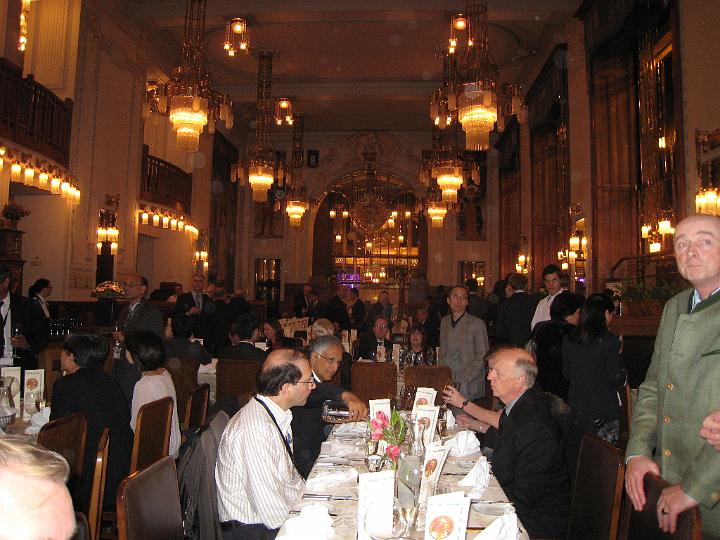 The day after the conference we set back out to explore more of Prague, and this time the weather was perfect!
As you can imagine based on the length of this post, Ross quickly tired of the number of pictures I wanted to take, so I'll try to limit the number I post here. There are a bunch more in the album if you're interested though.
Here's an annoyed Ross on a typical little street in Prague.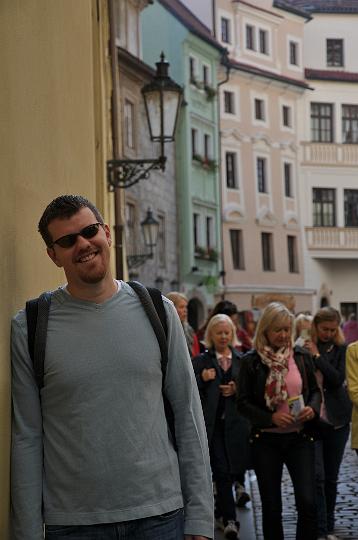 The astronomical clock in Old Town Square.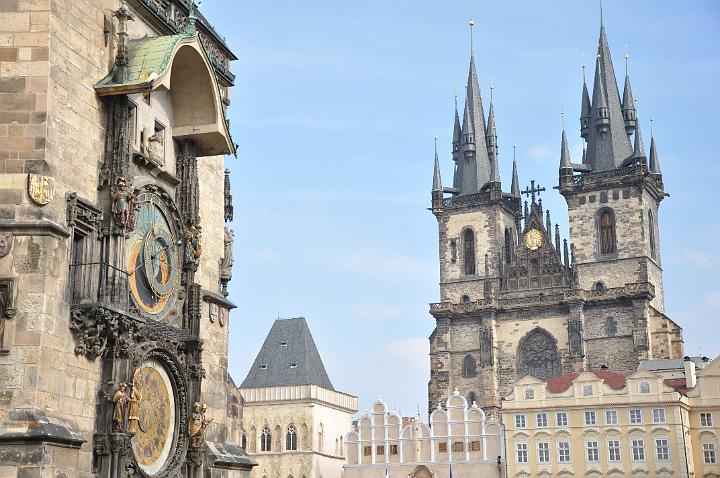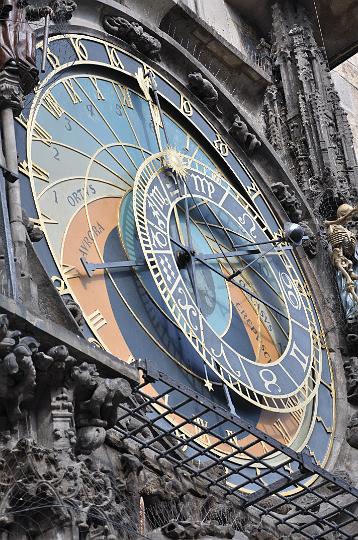 There were several couples getting married or taking their pictures in the square, at parks, and at the castle while we were there.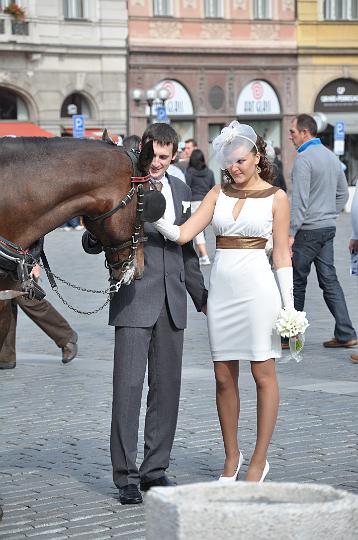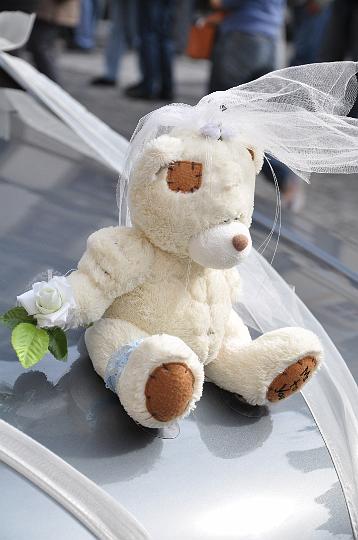 Some beautiful roses along the river.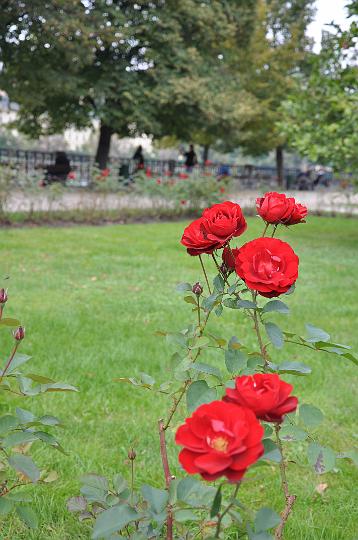 We stumbled on another little park with lots of weather veins while wandering around, but that wasn't the only unusual thing for us. There were peacocks wandering around, and I happened to get a picture of a man feeding them like we do ducks!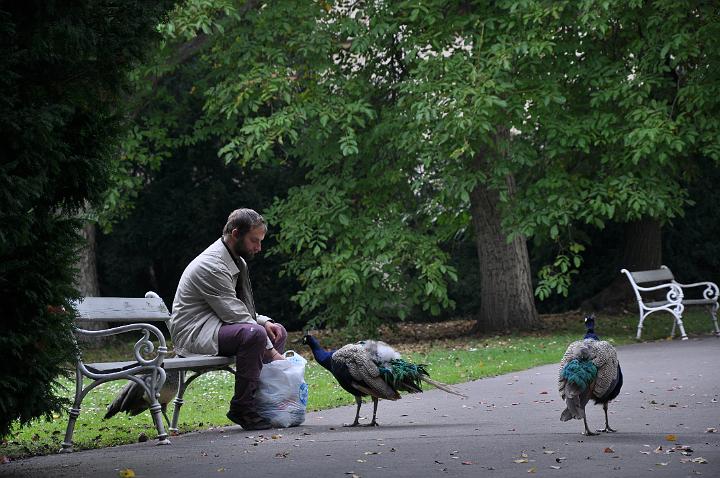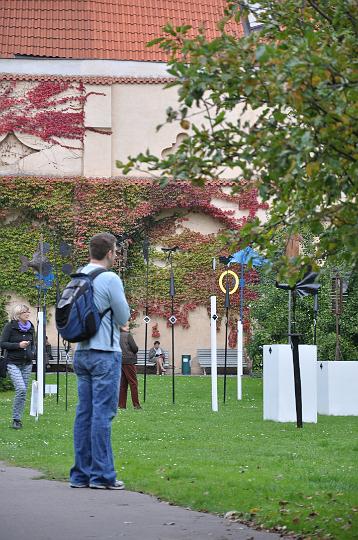 Taking a break at the park.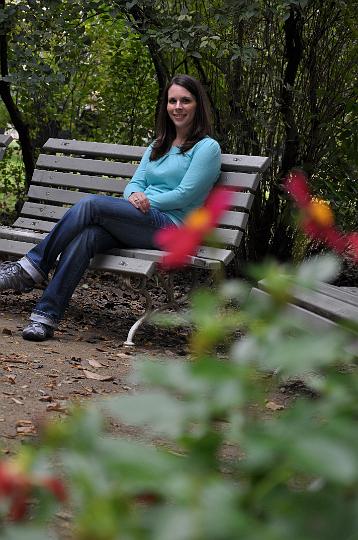 After visiting the Jewish Quarter and realizing we weren't going to be able to see much there because it was the Jewish Sabbath, we decided to head back to the castle area to do a little more venturing. This time we spent the majority of our time in the gardens.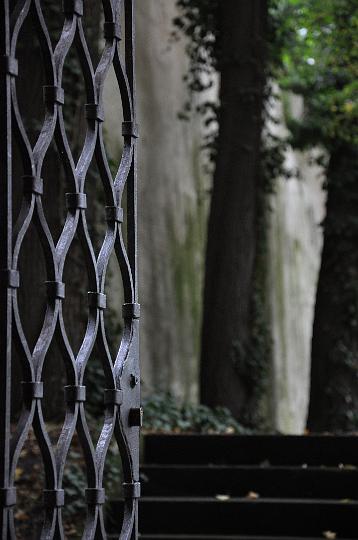 The way these berries or pieces of fruit had fallen on the statue just made me laugh, especially the one on the top of his head and in his horn.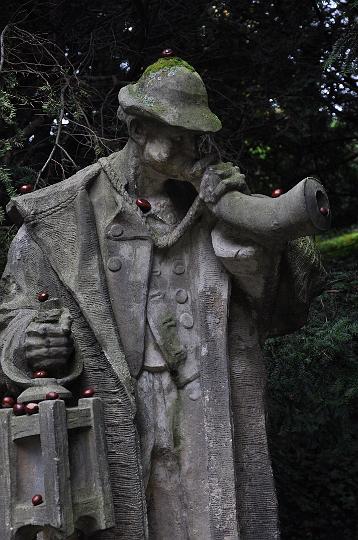 Looking for bears...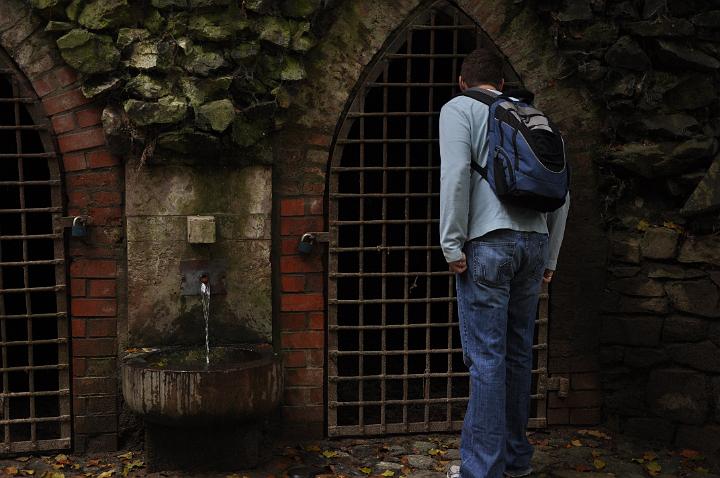 Some pictures of us! We even found a trustworthy person to take a picture of the two of us.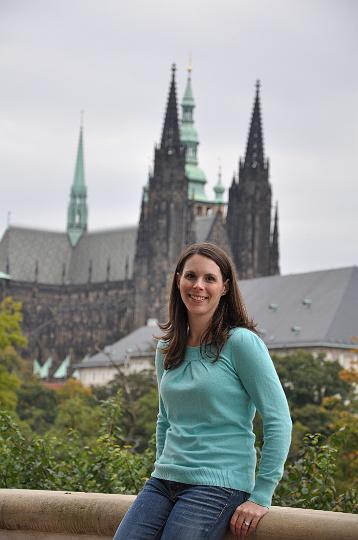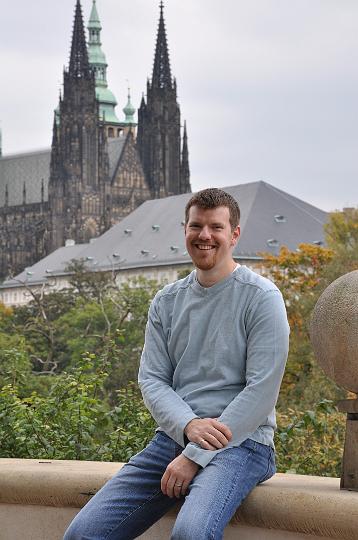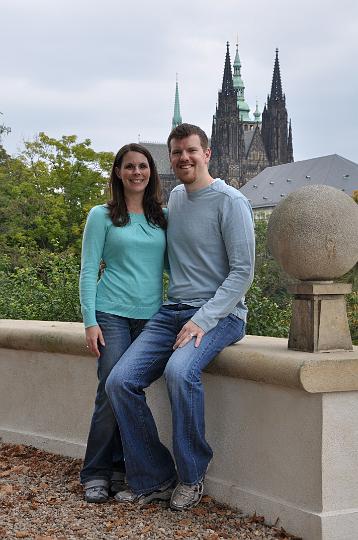 Deciding where to go next...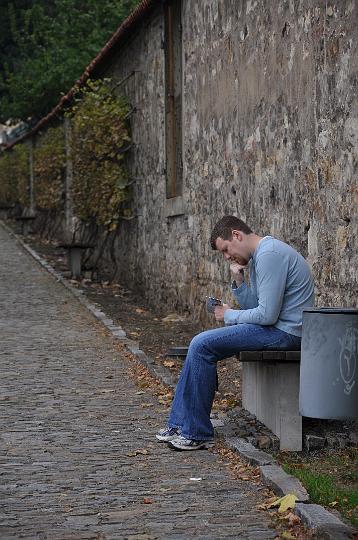 Another view of St. Vitus Cathedral and Prague.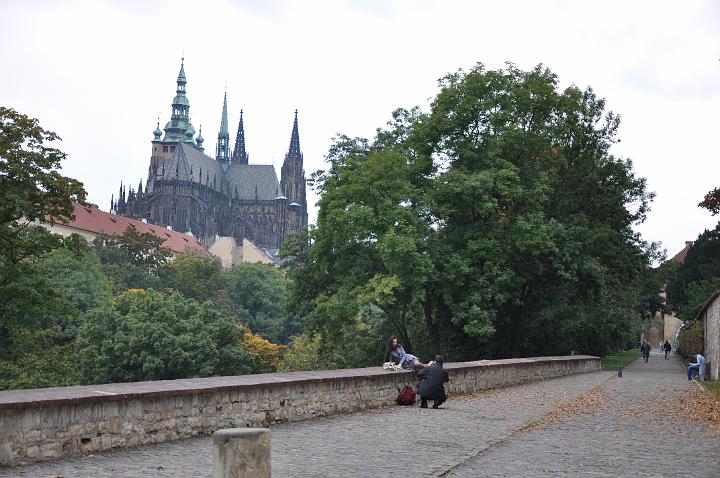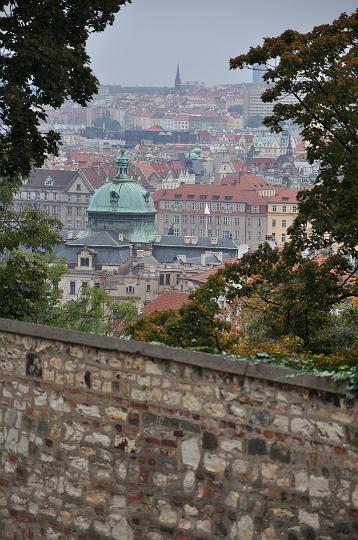 To end the day we stopped at a little restaurant just outside the castle area before heading back to the hotel to pack. We ended up walking 12 miles the last day we were in Prague and enjoyed every minute of it! Here's to Prague!