Monday morning we got in to see the pediatric orthopedist where it was determined Jackson indeed had a broken leg and needed a long leg cast. The break is just below the knee. The cast will be on for 6 weeks, and he can't walk on it at all!
Jackson did great getting the cast. He cried a little as they were taking off the splint, but he laughed and joked through most of the casting process. He chose a blue cast, which you can see below, and he's thoroughly enjoyed all of the attention he's getting! He still seems to be in pain, but as long as he's had some medicine, he's in great spirits.
Ross and I both took Monday off to be with Jackson while he got his cast, so after his nap that afternoon we decided to take him to his second movie, "Rio". His first was an IMAX 3D movie on the field trip with his class last month. He was a little scared and overwhelmed at first, but as soon as the birds started dancing, he decided it was fun and told me, "I'm not scared anymore." We really enjoyed spending the afternoon together.
Tuesday was Jackson's first day back at daycare after breaking his leg. We spent a good bit of time talking with his teachers on Monday trying to figure out the best way for them to help take care of him. We decided to bring our wagon to school for them to wheel him around when they were leaving the classroom, which has been a hit. His friends even take turns pulling him around outside. In the class he's scooting all over the floor and having his wonderful teachers help him get into chairs, etc. when needed. He's really adjusted well and has definitely enjoyed the attention. If you see him, he's likely to tell you, "I got hurt" in a very pitiful tone.
We've started writing on his cast, which he's enjoyed. Here are few of the messages that have been left for him.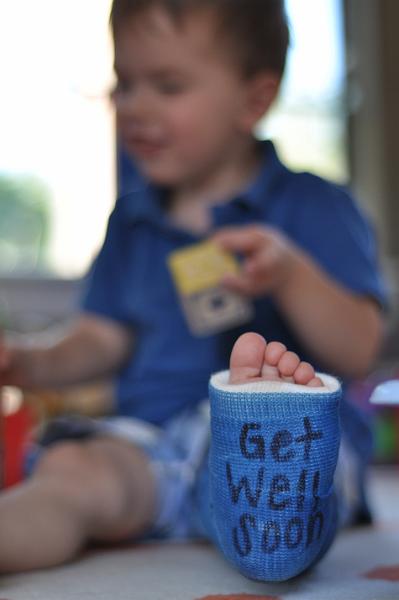 We are so grateful for everyone's prayers and concern for Jackson. Some days are a bit of a roller coaster ride right now, but I think that's to be expected as he gets frustrated and scared. Overall, though, he's still his happy self and finding plenty of ways to get around and get what he wants!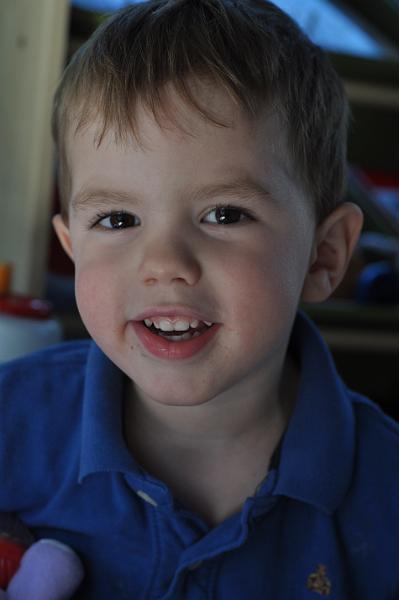 There are a few more pictures in the album.