This year we spent a good chunk of Easter day traveling home from the Dripping Springs/Wimbereley area of Texas where we spent the weekend celebrating the marriage of two friends, Pam and Jason. It was a gorgeous and fun wedding. It was outside in the hill country, and during the ceremony you could hear birds chirping and see butterflies floating by. There were so many fun, creative details that really made their wedding special! I decided not to take my camera, but...ohhhh...I was dying to walk around and take pictures of everything! I know they had a great photographer, so I'm looking forward to seeing their pictures!
I do have some pictures from the rest of our weekend and Easter celebrations though. Saturday morning we met up with some old friends from Austin, Sara and Mike, and their two kiddos. We went to Zilker park, and the kids got to feed the birds and play to their hearts content while the adults caught up a little. Jackson enjoyed throwing fistfulls of bird seed, while Audrey dropped one grain at a time.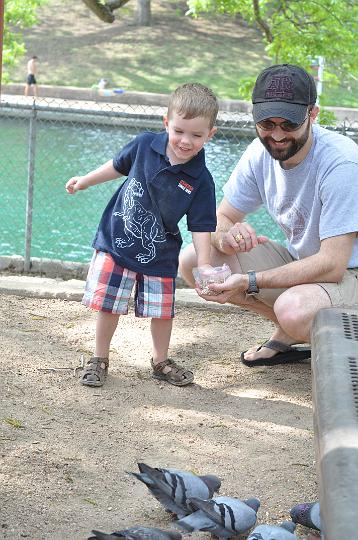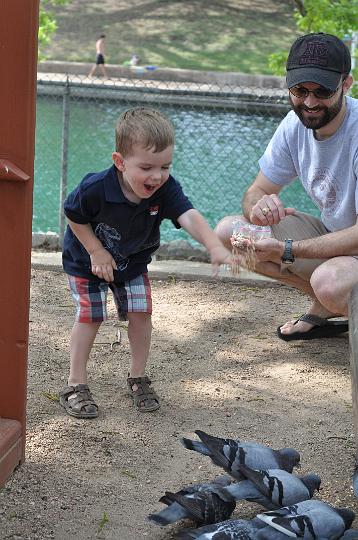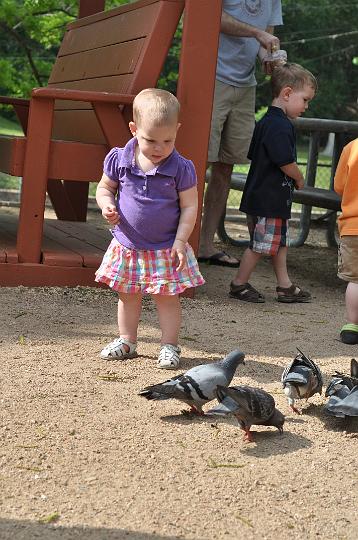 My Dad joined us for the weekend too, which we are SO grateful for! He helped out a ton at the park and let us go to the wedding without the kiddos, so it was a nice, relaxing evening!
Jackson and Audrey got most of their Easter presents in the car to help keep them occupied, but the Easter Bunny left a surprise at home along with candy-filled eggs around the yard.
Jackson had a stomp rocket that he loved, but it didn't always work well and was getting a little torn up. The Easter Bunny knew he was in need of something a little better! Of course, the first rocket launched landed in the gutters, so we quickly learned to move this stomp rocket a little further into the yard. If you can't tell, he's pretty excited about his new toy.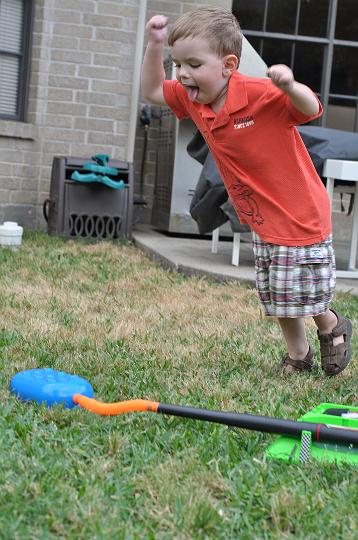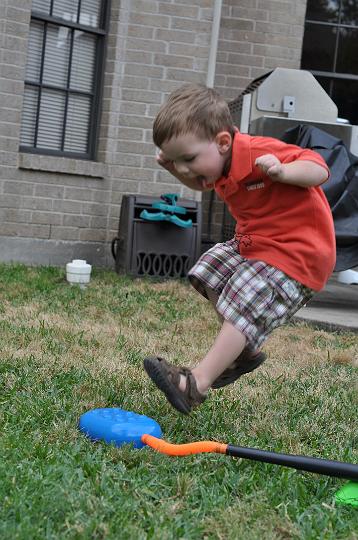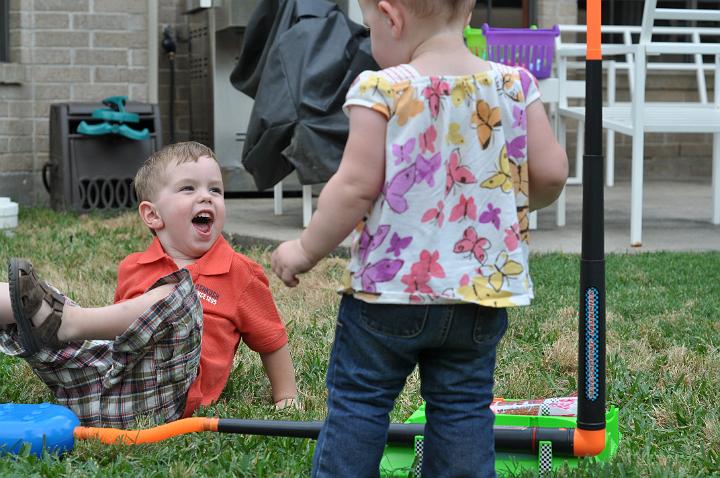 Audrey got involved too, but she has discovered how to climb the ladder of the playhouse and slide down the slide. Every time we open the back door now, she makes a bee-line for it!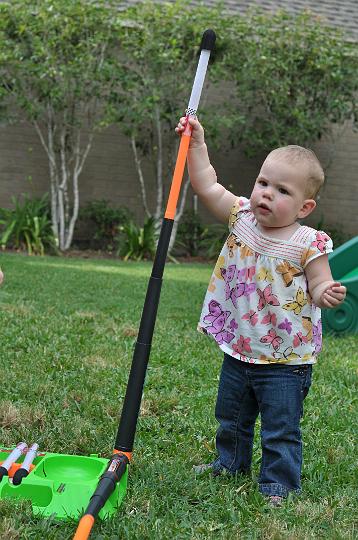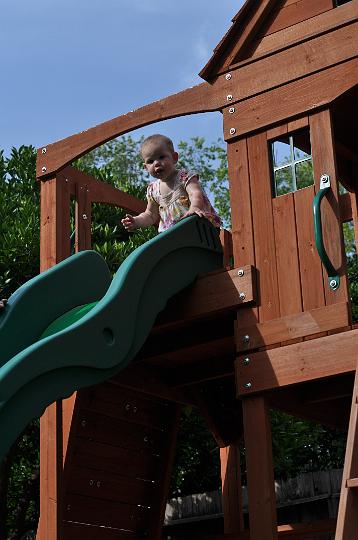 Audrey also enjoyed shaking all of the eggs with candy in them.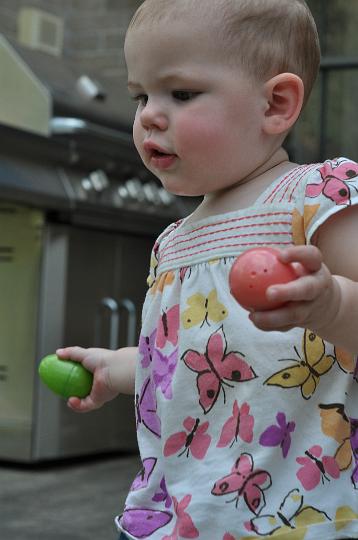 As for other Easter activities, we had a little egg hunt for Jackson and Audrey in our back yard on Palm Sunday.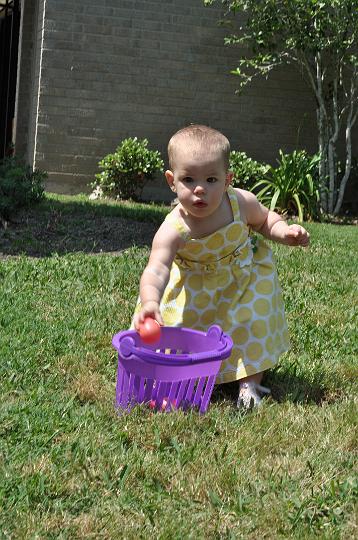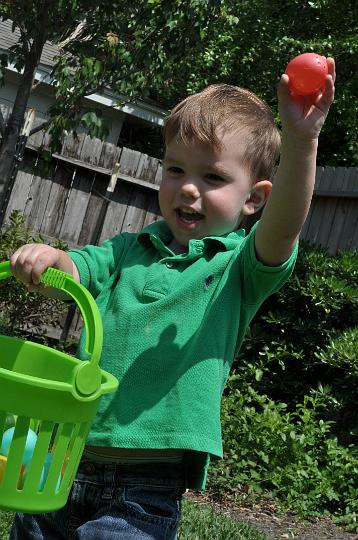 These are just some cute pics from the same day that I have to share...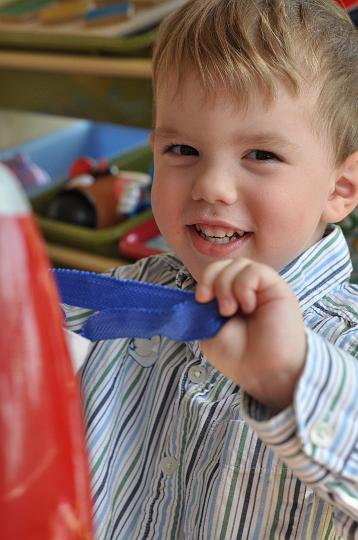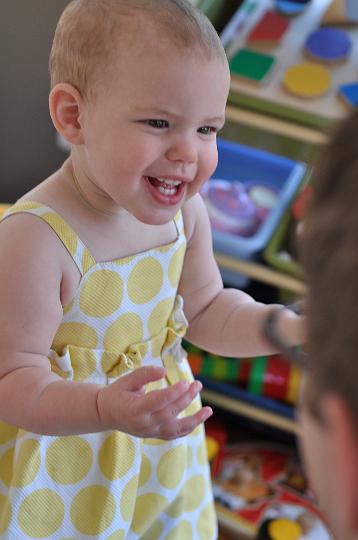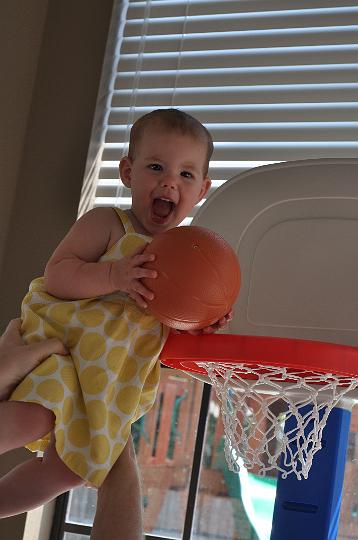 The Easter Bunny came to visit the day care, and I got to take pictures of just about every kid at the day care getting an egg from the Easter Bunny...every kid but ours! Both Jackson and Audrey were a little intimidated by the bunny. Here's Jackson's reaction. I didn't get Audrey's on camera, but there was crying involved.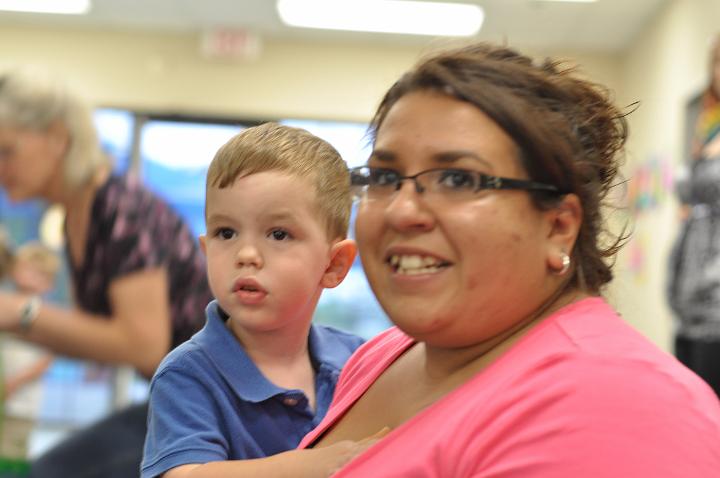 Jackson's class did an egg hunt too, and these are some of the after pics. In this one his teacher, Ms. Monica is helping him with his "bunny teeth".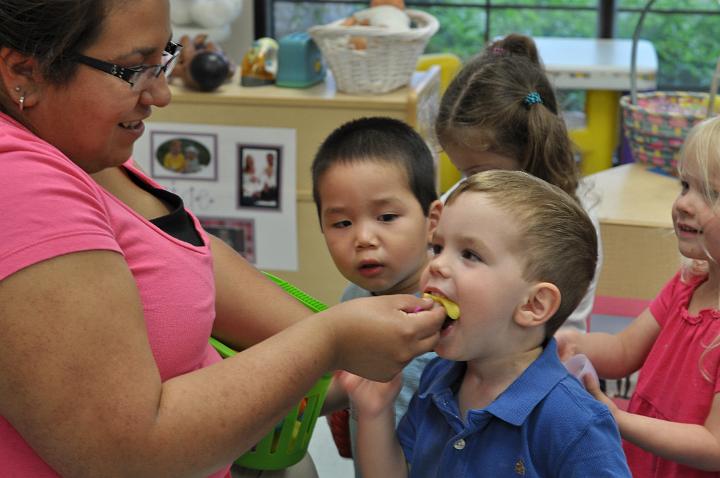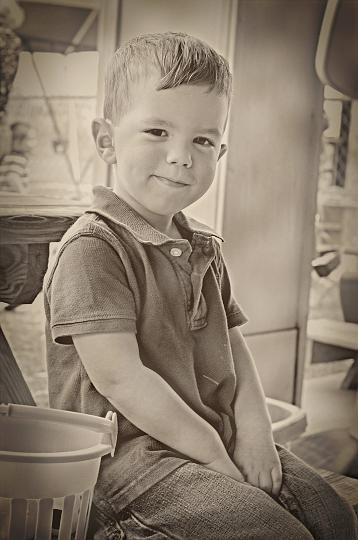 So we didn't get to go to church on Easter Sunday, and we didn't have a big meal with friends and family. We did find other ways to talk to Jackson about the reason we celebrate Easter, which quite honestly is hard to explain to an almost 3 year old! He constantly surprises me though, and when asked why Jesus had to die on the cross, he responds, "Because He loves me." Pretty sweet!
As usual, there are more pictures in the album.