The fourth day may have been our favorite. We went Jungle Biking in the morning and took a couple's massage class in the afternoon with a little beach time in between. The jungle biking was intense, but loads of fun. They start by taking you down "Main Street", otherwise known as the beginners course, and show you where the other trails are. They seem to be rated a lot like ski slopes. Green was for beginners (a well cleared path), yellow for intermediate (rocks and roots but fairly flat), red for advanced (rocks, roots, moderate switchbacks, and hills), and black for a death wish (no one has ever successfully done this on a bike).
After finishing the green trail with our guide, we were on our own to explore and ride wherever we liked. My (Elizabeth) ego was stroked quite a bit on the ride with the guide. He seemed impressed with my riding skills and seemed to think I would have no problems on a red trail. None the less, we started on the yellow trails first to make sure our wheels would stay under us. Did you know that rain makes rocks slippery? Did you know that the rain forest is aptly named? It had been raining off and on, so the yellow trails were a little harder than the guide let on. Once we got going though, we did a pretty good job. Neither of us fell, which I thought was a success!
We did all of the yellow trails on the plantation, stopped to refill our water bottles, and headed out again. We did a couple of the yellow trails again, and decided to see what the red trail was like. The problem with slippery rocks and roots on a hill is that it's very hard to get going again once you've had to stop. We ended up walking our bikes a lot on the red trail, but it was fun to see what it was like. We were reminded over and over in our tour at the beginning that "there is no shame in walking your bike!"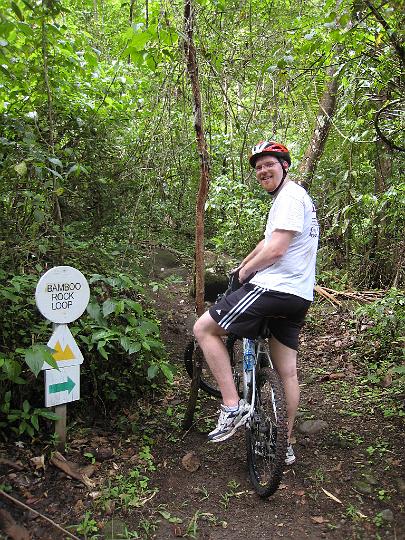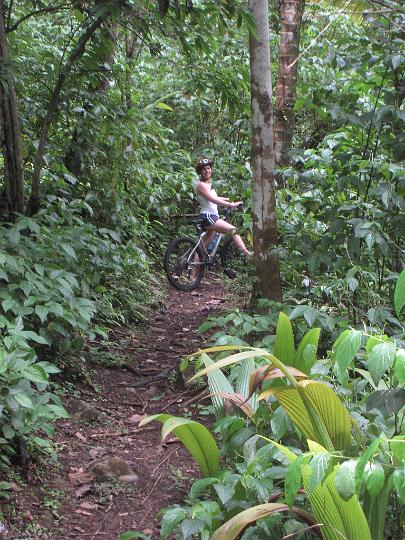 We took a water taxi back to Anse Chastenet where we caught our breath and had lunch on the beach before going to our couple's massage class. It was incredible! We each got an hour long massage from the other while being instructed by a massage therapist named Jonathon. He would show you how to do something, and then watch carefully to ensure you were doing it correctly not only for the benefit of the person being massaged, but also to prevent injury or unnecessary strain on yourself. The person being massaged got a real treat when it was time to work on the legs. Jonathon would demonstrate on one leg while you followed on the other, so the person being massaged had four hands on them at once! Did I mention it was incredible? The perfect way to relax those muscles after a morning filled with intense biking.
Tuesdays are when the Managers throw a little party for everyone with free local rum punch and appetizers. We ended up having dinner with an older couple that had just moved from Canada to DC. They were very nice, and we had fun getting to know them.