Day 6 we had an early breakfast and met another honeymooning couple for a 45 minute ride to the Enbas Saut Rainforest. This was by far our "hardest" hike, and we only hiked about 2 miles. The part that made it hard was that we had to go down ~1200 steps on our way into the rainforest and up ~1300 steps on our way back out. It was awesome! A family from another resort joined us for the hike. Here's a pic of our group getting started.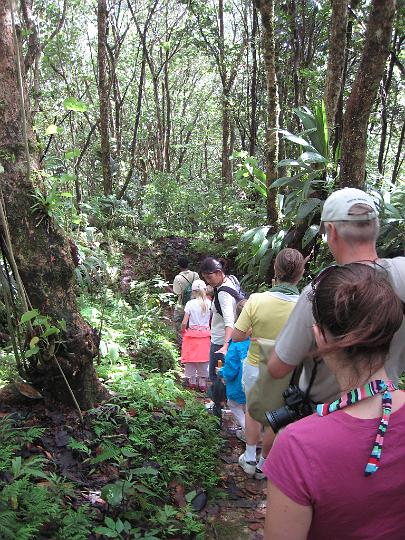 The trees by themselves were incredible. The fig trees like to literally suck the life out of other trees. You can see the one below wrapped its roots around another tree and lived off of it until the original tree died. Then there are trees with flying-buttress type roots that help them stand. None of the trees have deep roots, so this is their way of surviving.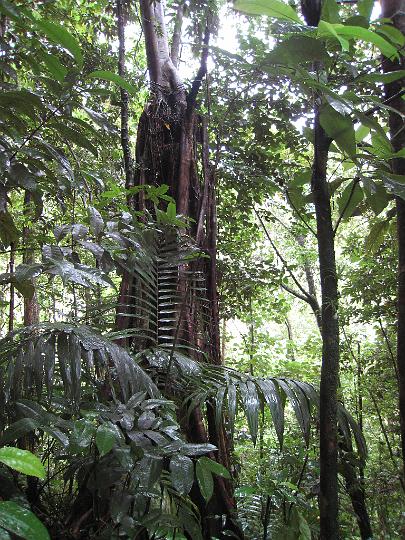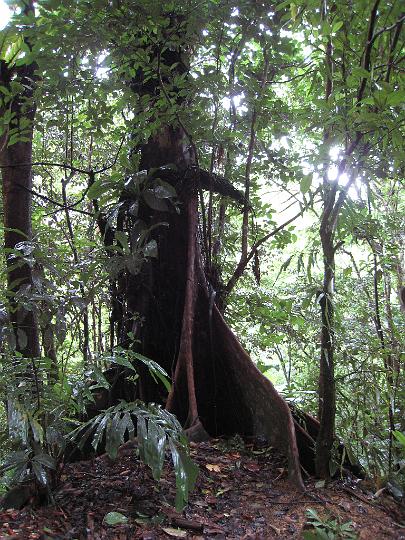 The highlight of the hike was the Enbas Saut Falls. There were 2 falls with a pool at the base of each. The water from the first, smaller fall ran into a pool and created the next fall. Both pools were big enough to swim in, but we opted to watch the others and climb around a little.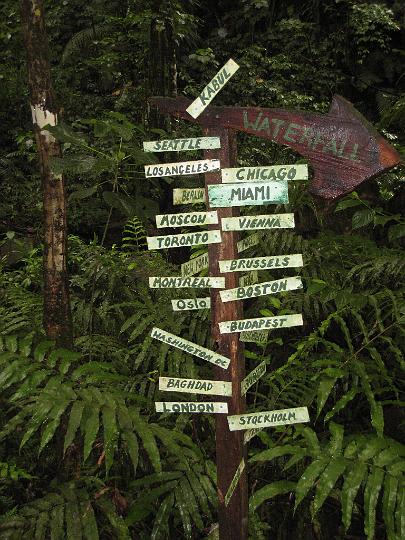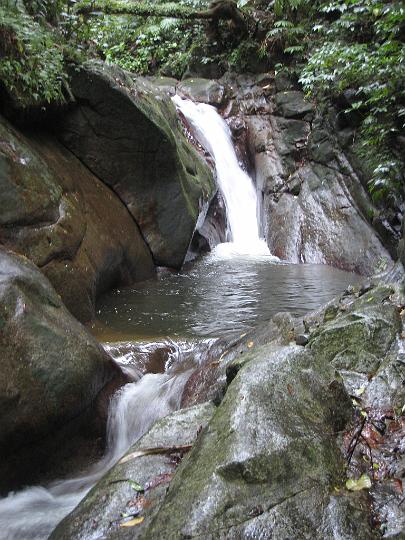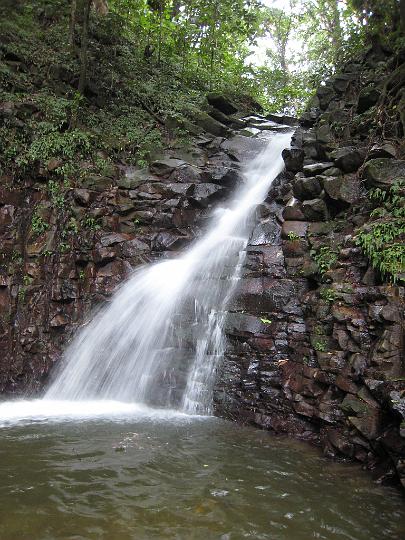 On the way back up there was a bench marking every 1/4 mile. One of the little girls in our group had to be carried by our guide for a while because it was so steep and strenuous. Of course, we loved every minute of it. There were all kinds of beautiful (and some unusual) flowers and fruits on the way back up. We even saw a cinnamon tree, which was a new thing for us!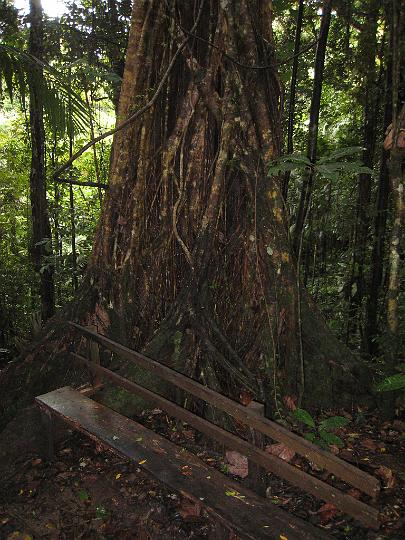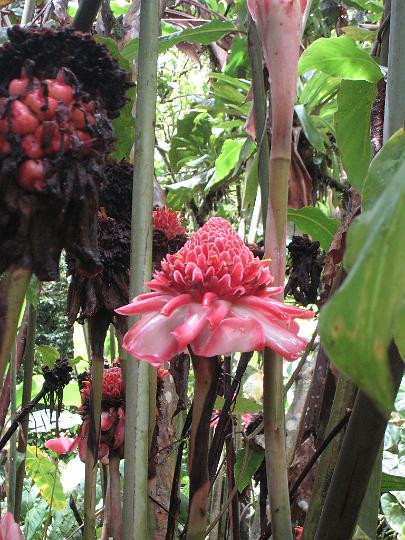 If you ever go to St. Lucia and do this hike, which we recommend, be prepared to sweat and take some water and bug spray with you...there were a lot of mosquitos!
When we got back to Anse Chastanet, we were greeted by one of the managers who had apparently been looking for us all morning. To our delight he invited us to spend our last night at Jade Mountain (the resort within Anse Chastanet). We were very excited because we had heard wonderful things about Jade Mountain, so we quickly packed our bags and were moved to our new room; although, I don't really think it qualifies as a "room".
When you walk in the door, you are immediately looking out at the Caribbean Sea and the Pitons because there are only 3 walls in the room! The next thing that catches your eye aside from the size of the room is the infinity pool at the edge of the room reflecting the view of the Pitons like a piece of glass. There were two sitting areas, a 4-poster, king sized bed, a large open bathroom with a "tub for 2" and a shower without walls, a full dining table that would easily seat 6-8 people, a mini fridge, and a sun deck with 2 chaise loungers.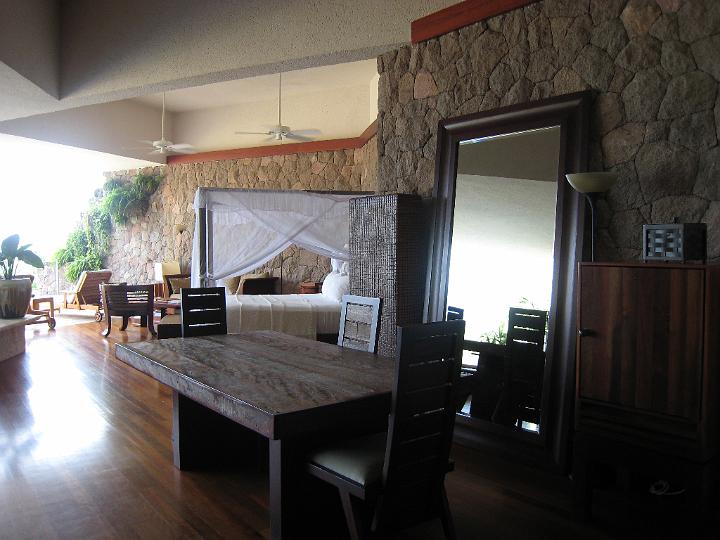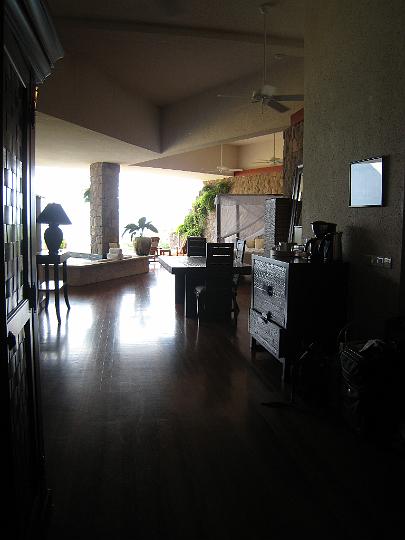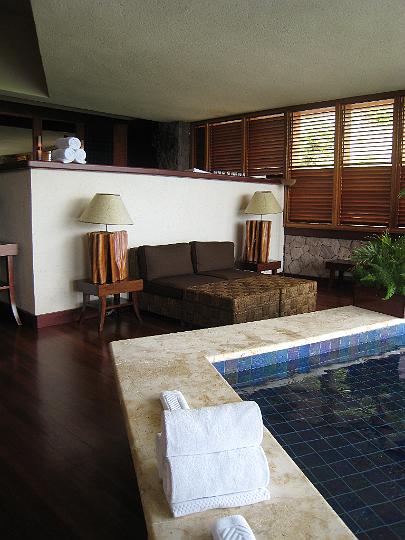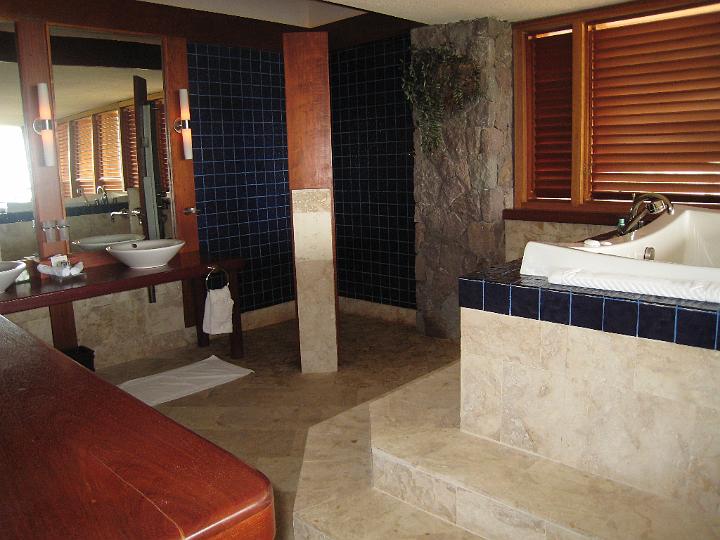 The only thing that's missing is a kitchen. However, you can order room service for no extra charge, so really there's no reason to leave your room! As a matter of fact, the only reason we did was for dinner that night because we had already made reservations at the Indian/Caribbean Restaurant, Apsara. We both like Indian food, but it was even better fused with a Caribbean touch! We couldn't have asked for a better ending to an incredible day!